What's in Bloom Now? Garden Updates November 8 – 14
By Thea Hegland
The quietude of early November in the garden has a secret allure; amongst the dominance of the great trees of The Gardens, the silently falling leaves instill a peaceful ambience. It is easy to forget that at one time these gorgeous grounds were somewhat amiss with neglect.
Nowadays The Gardens are full of life and prosperity. A family run business employing up to 600 members of staff during peak season, The Gardens is a vital part of the local community. Our 12 Month Pass holders like to come regularly for walks, it is a must-see for out of town guests and local people have plenty of work opportunities. It feels like home.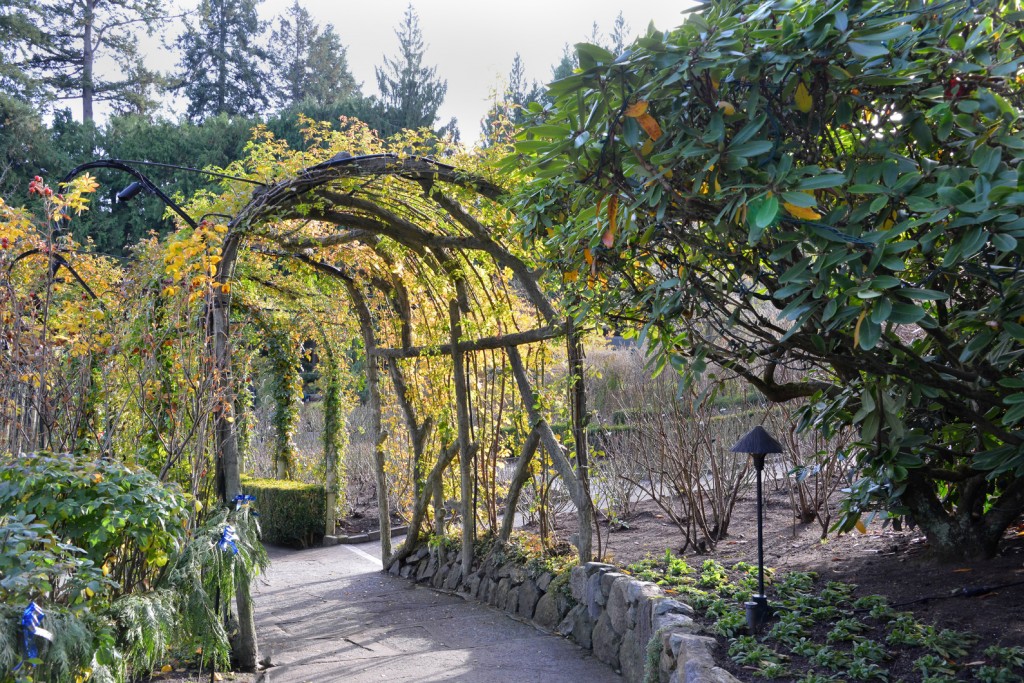 The iconic Rose Arch pruned and ready for the cold winter ahead
Our amazing gardening staff is just nearing completion of the 2019 fall planting season under record-breaking sunny skies. Perennial borders have been cut back, Roses are pruned and tender plants returned to our greenhouses for the winter. Preparations for the Christmas season have all staff working towards the ultimate goal; make this year as magical as ever!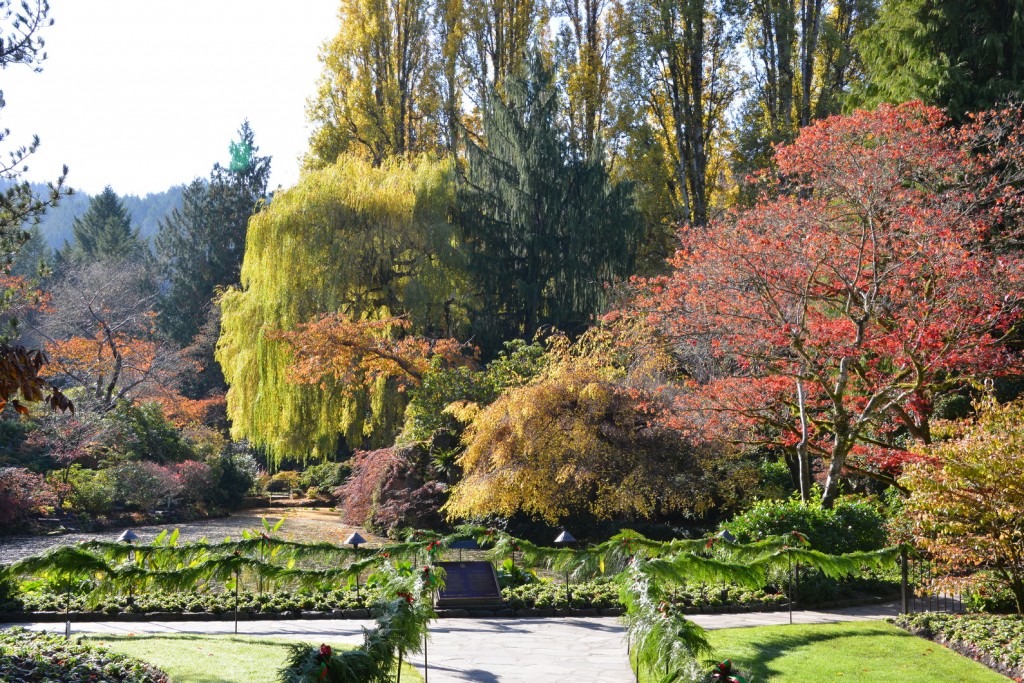 Subtle signs of Christmas beginning to appear. Can you spot it here?
Alas, there was a time when The Gardens had become somewhat overgrown; incredibly silent while it also struggled through the toughest times.
It was during war times when The Gardens suffered a severe man-power shortage. Mr. R.P. Butchart served his country in 1917 during the first World War. Invited through the Imperial Munitions Board to assume Director of Shipbuilding on the west coast to organize and build wooden ships for the war effort, Mr. Butchart accepted the post without hesitation and joined so many others towards the support of a military force. The grandson of Mr. and Mrs. Butchart also was part of the mobilization during the 2nd World War. Lieutenant Commander Robert Ian Ross joined the Naval Service and served his duties in the North Atlantic.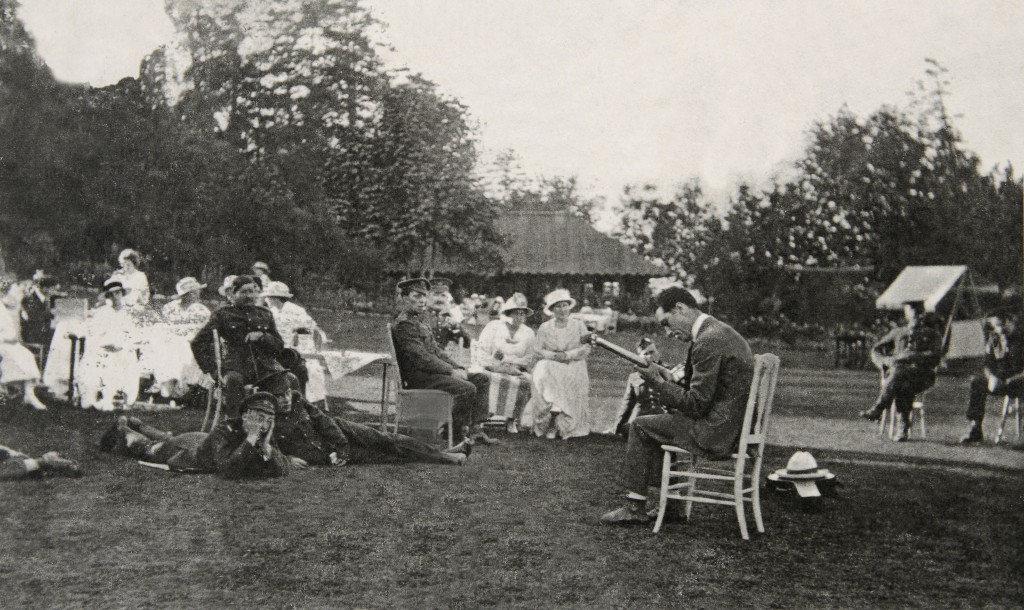 Soldiers relaxing at The Gardens
The warmhearted Jennie Butchart welcomed soldiers to her garden for some respite and graciously served a lovely tea as they enjoyed some musical entertainment on the main lawn during the 1st World War.
With Remembrance Day this week, The Gardens respectfully embody those who sacrificed their lives for our country as well as the many that have served and continue to serve. A beautiful fresh floral wreath in solemn commemoration of Remembrance Day will be on display for our visitors.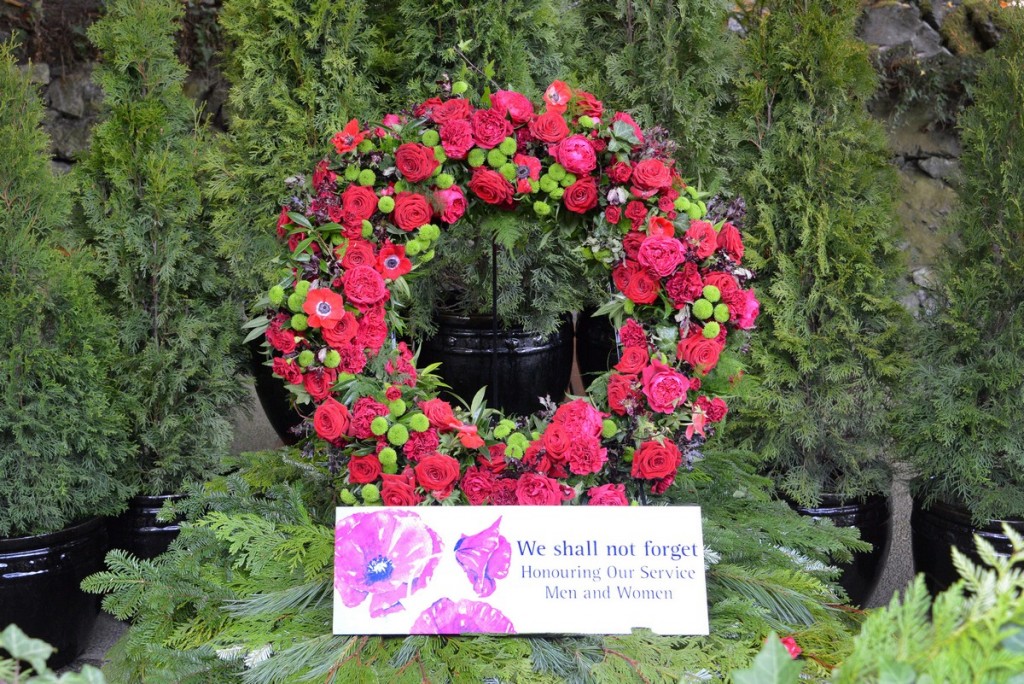 You can find the Remembrance Day wreath to the left of the Visitor Information Centre
Lest we forget.
Plants that are currently blooming
Abelia
Aucuba japonica (Spotted laurel)
Bellis (English daisy)
Bergenia (Elephant's ears)
Callicarpa (Beautyberry)
Cotinus (Smoke tree)
Cotoneaster
Cyclamen coum
Erica (Erica)
Euonymus europaeus (Spindle tree)
Fuchsia
Hydrangea
Illex
Mahonia (Oregon grape)
Nandina (Heavenly bamboo)
Nerine
Ophiopogon planiscapus (Mondo grass)
Parthenocissus tricuspidata (Boston ivy)
Pyracantha (Firethorn)
Polyanthus (Primula)
Skimmia japonica
Viburnum bodnantense
Viola