What is in Bloom Now? Garden Updates May 19-25
By Thea Hegland
You don't have to venture far into the garden to be impressed; you will be easily captivated by the gorgeous yellow Laburnum anagyroides (Golden chain tree) that leads the way into The Gardens along the trellis from the parking area.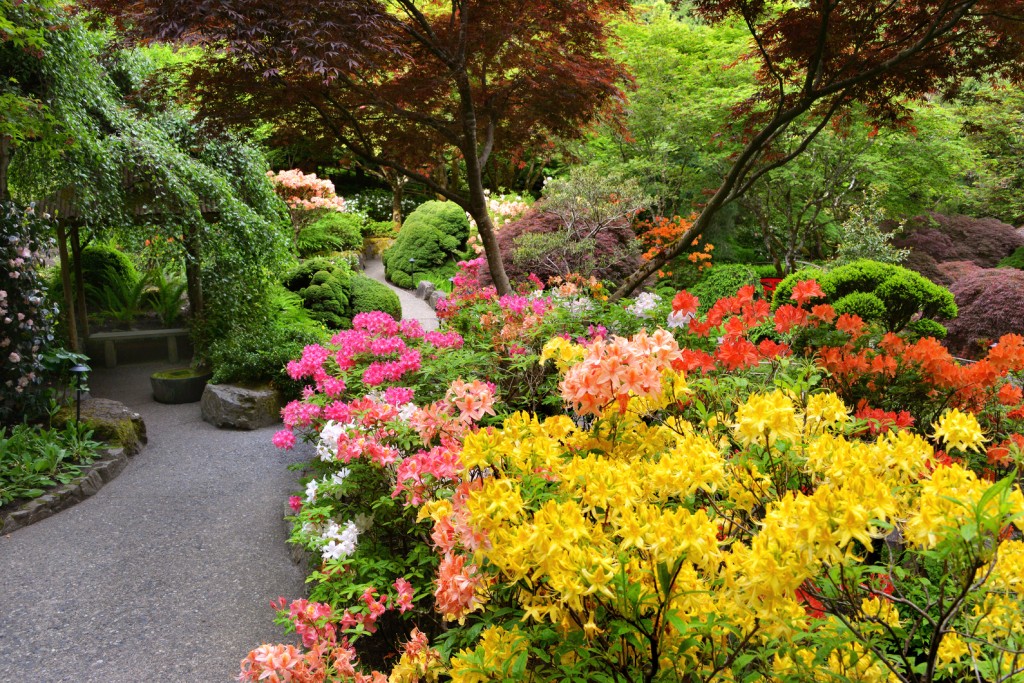 Rhododendron reign The Gardens as they have reached the height of their blooming season; from soft pale pinks, bold reds to shades of purple. Many old classic varieties can be found throughout the grounds – beauties such as 'Pink Pearl' in soft pale pink fading to white and 'Chevalier Felix de Sauvage' a pretty pink bi-colour with burgundy markings both hybridized over 100 years ago in 1870 and 1892 respectively. Brilliant red favourite, 'The Honorable Jean Marie de Montague' (1958) was added to the extensive collection 60 years ago and remain prevalent throughout the grounds.
In the meantime, the 70 members of the gardening staff are working intensely on the removal of the spring display and the planting the summer display… it is an amazing process that has been streamlined after many years of tried, tested and true results.
The perennial borders are coming along with the first glimpses of Hemerocollis (Daylily), Paeonia, and Iris; a good sign of all the flowers yet to come. This week, perhaps the best is saved for last. Lining the exit road on either side of the drive is the absolutely magical Crataegus (English Hawthorn) with blazing reddish-pink blossoms. A perfect end to a great day spent in the garden!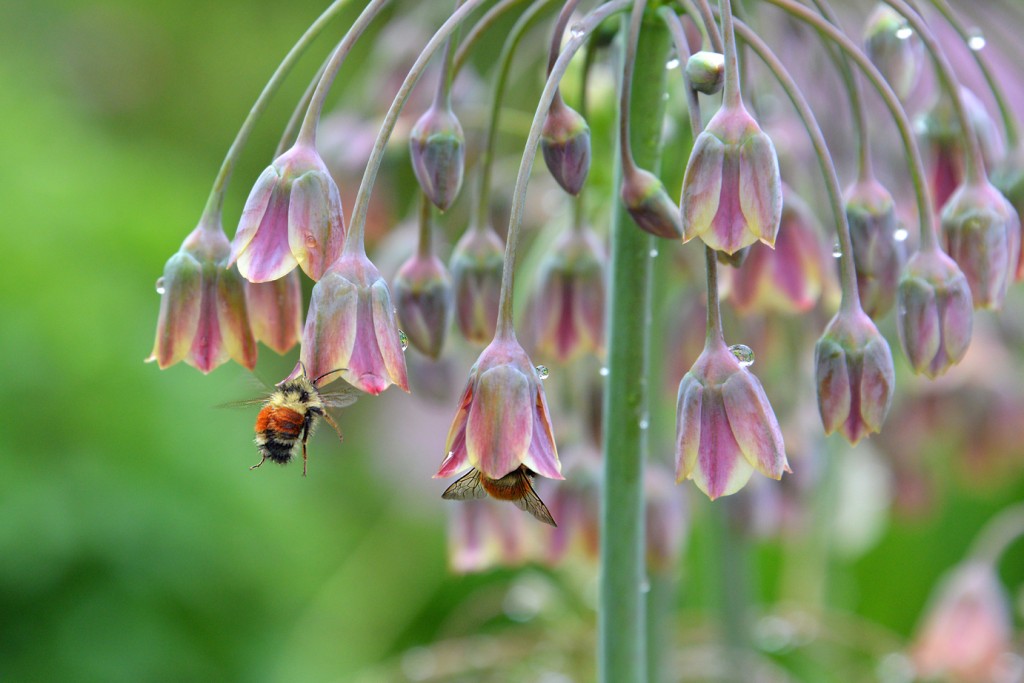 Plants that are currently blooming
Aesculus (Horse chesnut)
Allium
Anthriscus sylvestris 'Ravenswing'
Aquilegia (Columbine)
Aucuba japonica (Spotted laurel)
Begonia
Bellis (English daisy)
Bergenia (Elephant's ears)
Brunnera macrophylla
Camellia
Caltha (Marsh marigold)
Centaurea montana
Cercis chinensis (Chinese redbud)
Convallaria (Lily-of-the-valley)
Cornus florida
Cornus nuttallii (Pacific dogwood)
Crataegus (Hawthorn)
Davidia involucrata (Dove tree)
Deutzia
Dicentra (Bleeding heart)
Digitalis (Foxglove)
Doronicum (Leopard's bane)
Epimedium (Barren wort)
Eremurus (Foxtail lily)
Erica (Heather)
Erysimum (Wallflower)
Fraxinus ornus (Flowering ash)
Fritillaria imperialis (Crown imperial)
Gentiana (Gentain)
Geum
Globularia (Globe daisy)
Halesia (Snowdrop tree)
Hemerocallis (Daylily)
Hyacinthoides (Bluebell)
Illicium
Iris
Laburnum (Golden chain tree)
Lantana
Leucojum (Snowflake)
Malus (Crabapple)
Matthiola (Stock)
Meconopsis (Blue poppy)
Myosotis (Forget-me-not)
Nectaroscordum
Pachystachys lutea (Lollipop plant)
Paeonia (Peony)
Paeonia lutea (Tree peony)
Pelargonium (Geranium)
Pericallis (Painted daisy)
Petasites
Polemonium (Jacob's ladder)
Podophyllum (Mayapple)
Polygala chamaebuxus
Poncirus trifoliata (Hardy orange)
Pulmonaria (Lungwort)
Primula (Primrose)
Prostanthera rotundifolia (Mint bush)
Rheum
Rhododendron
Schizanthus (Butterfly flower)
Skimmia japonica
Spiraea (Spirea)
Smilacina (False Solomon's seal)
Syringa (Lilac)
Trochodendron araliodes (Wheel tree)
Trollius (Globeflower)
Tulipa
Viola
Wisteria