What's in Bloom Now? August Garden Report
By Thea Hegland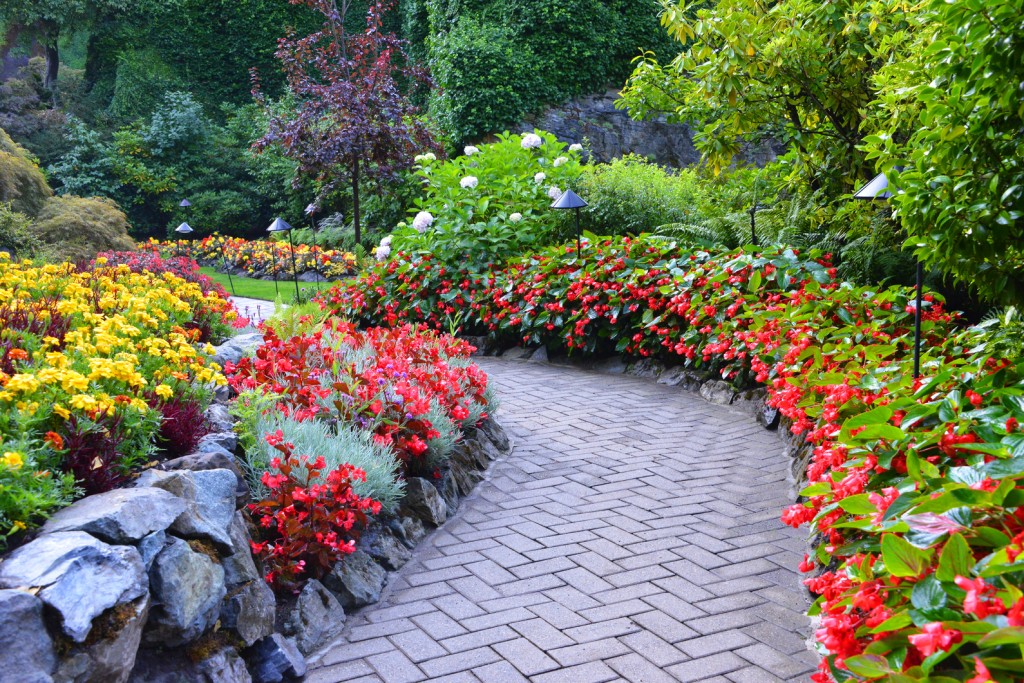 Endless paths of vibrant blooms
August in The Gardens is absolutely stunning. A long stretch of hot sunny weather has delivered thousands of colourful flowers to satisfy any flower lover.  Gorgeous leafy trees offer a shady respite along the seemingly endless paths and the lush lawns tempt the weary visitor with a little siesta. Along these lawns, you will find many of the perennial borders of The Gardens. It is here where the native bees and butterflies roam amongst the herbaceous flowers. Monarda (Bee balm), Phlox, Acontitum, and Helianthus are magnetic attractions for these pollinators, bringing all good things to the garden.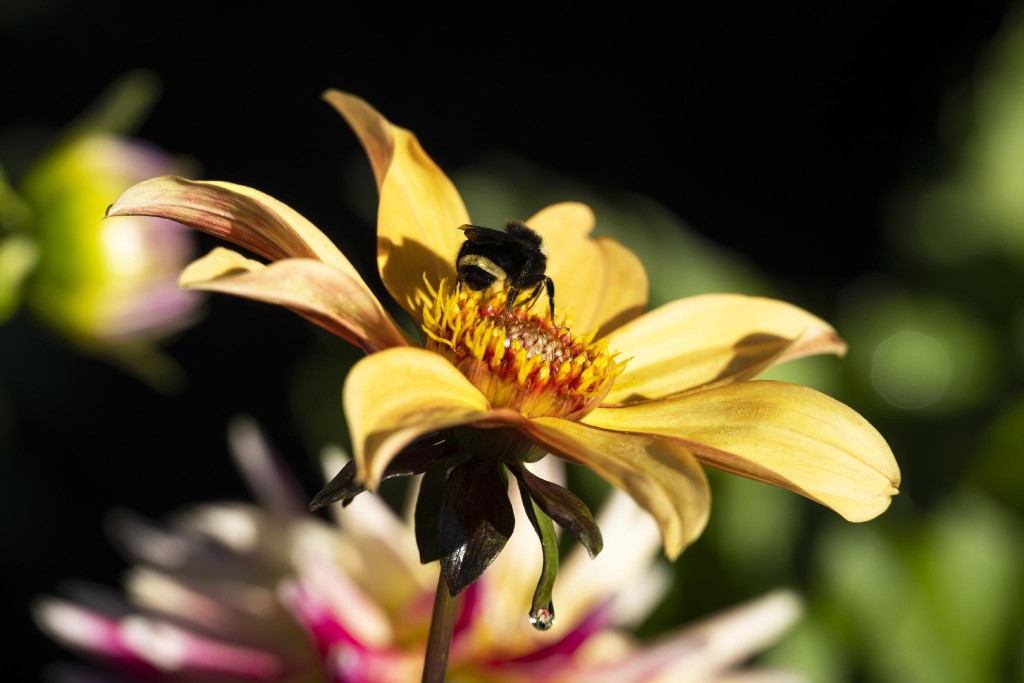 Bumble Bee enjoying the variety of herbaceous flowers along the perennial borders 
The legendary Dahlia border is living up to its long-standing reputation as a late summer star. As the month progresses, these beauties will get more impressive.  A wide range of colours and shapes dazzle with outstanding blossoms. Over a hundred different varieties are amongst the collection, which entertains and enthrall visitors each year.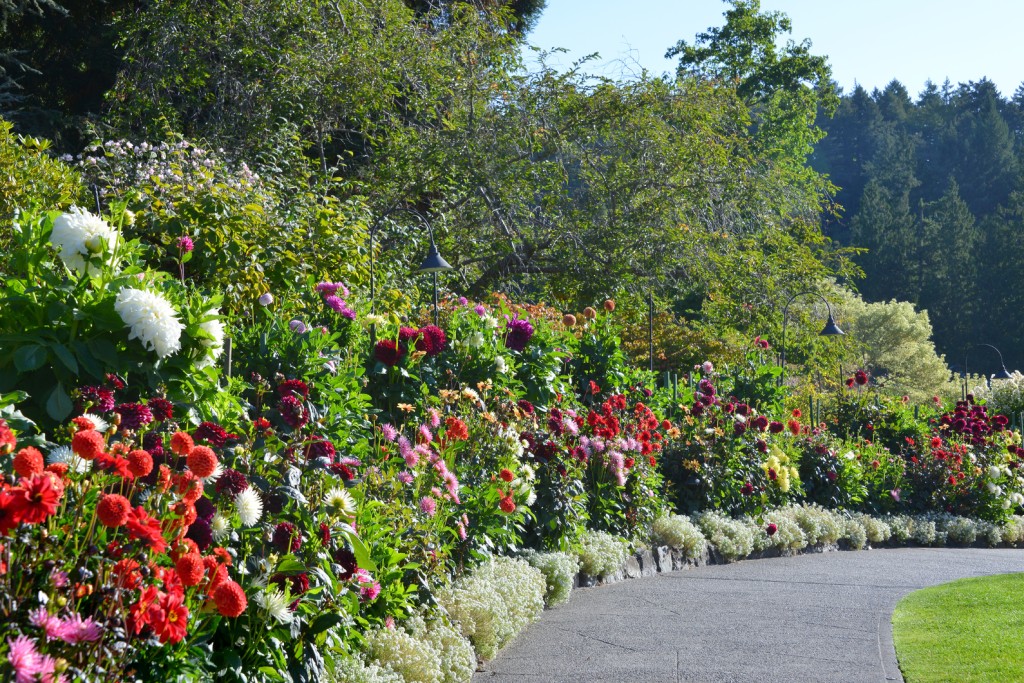 The stunning Dahlia border
Most deserving attention this week is our impressive collection of Lilies. Over 30 varieties of Oriental, Asiatic, Trumpet, and other hybrids are among the different varieties found along the borders. The most impressive is the Lilium 'Conca D'or' which soars more than 5 ft in height. This soft pale-yellow Lily is a fragrant cross between an Oriental and a Trumpet lily and is a noteworthy member of the Lily Hall of Fame.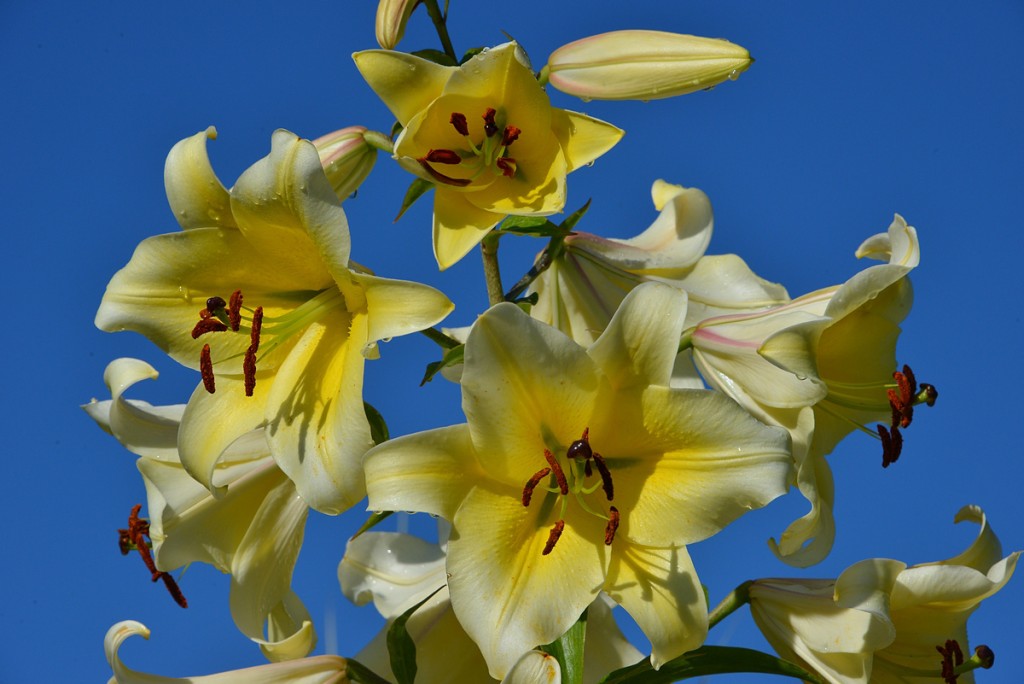 Lilium 'Conca D'or'
For those who enjoy the heat, venture through the Italian Garden. A burst of hot and spicy colours seem appropriate for this hot spot. Once a tennis court, this formal garden boasts dramatic flower beds filled with Rudbeckia, Salvia farinacea, and Tagetes. The Cross Pond is surrounded by bright orange Impatiens and complemented with delicate purple Verebena 'Imagination' creating a pleasing focal point. I highly recommend indulging in a refreshing gelato from our Gelateria located right in The Italian Garden – it's the best way to take in the beautiful surroundings!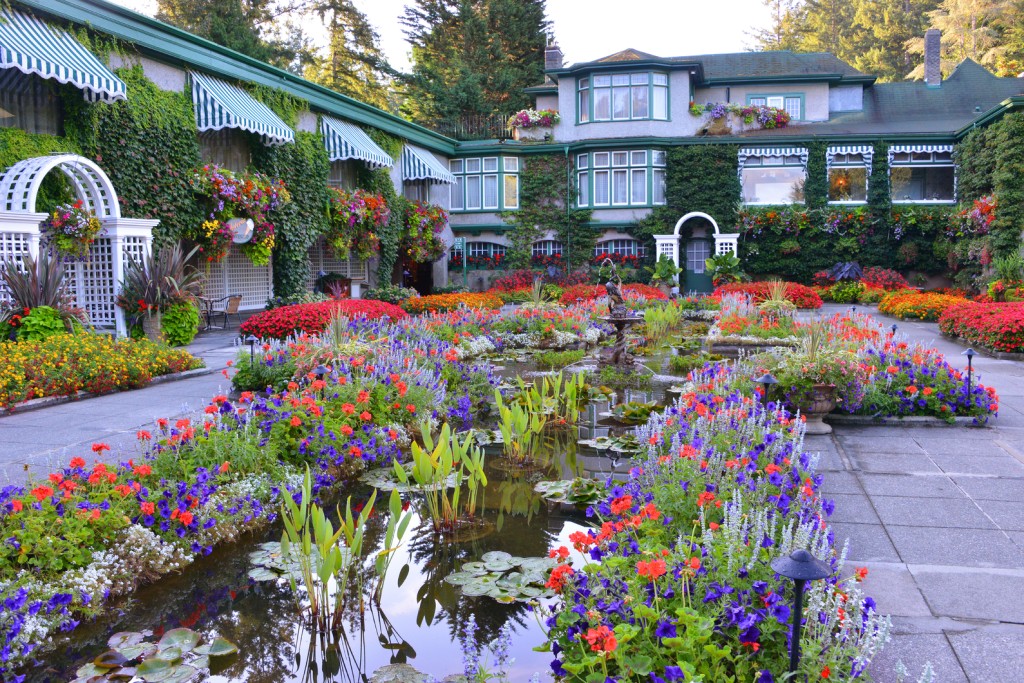 The lush Italian Garden bursting with colour
Plants, trees, and shrubs that are currently blooming
Abutilon (Flowering maple)
Acanthus spinosus (Bear's breeches)
Achillea
Aconitum (Monkshood)
Alocasia (Elephant's ear)
Anigozanthos (Kangaroo paw)
Aruncus (Goat's beard)
Astilbe
Astrantia (Masterwort)
Begonia
Callistemon
Catalpa bignonioides (Indian bean tree)
Centaurea macrocephala (Giant knapweed)
Cosmos atrosanguineus (Chocolate cosmos)
Dahlia
Delphinium
Dianthus (Pinks)
Dierama (Angel's fishing rod)
Fuchsia
Gaura
Helianthemum (Rock rose)
Hemerocallis (Daylily)
Hydrangea
Iochroma
Inula
Lathyrus (Sweet pea)
Lavendula (Lavender)
Leptospermum (Tea tree)
Lilium (Lily)
Lysimachia
Olearia (Daisy bush)
Optunia
Punica (Pomegranate)
Romneya coulteri (Tree poppy)
Rosa (Rose)
Rudbeckia (Gloriosa daisy)
Salpiglossis sinuata (Painted tongue)
Tecoma
Thalictrum (Meadow rue)
Thermopsis villosa (Carolina lupine)
Thunbergia
Tradescantia
Zinnia