What's in Bloom Now? Garden Updates April 1 – 14
By Thea Hegland
Life in The Gardens goes on. A deep silence, softly roused by the peaceful songs of the local birds; The Gardens have never seemed so beautiful. With each passing day, the spring display evolves as more flowers and leaves begin to emerge.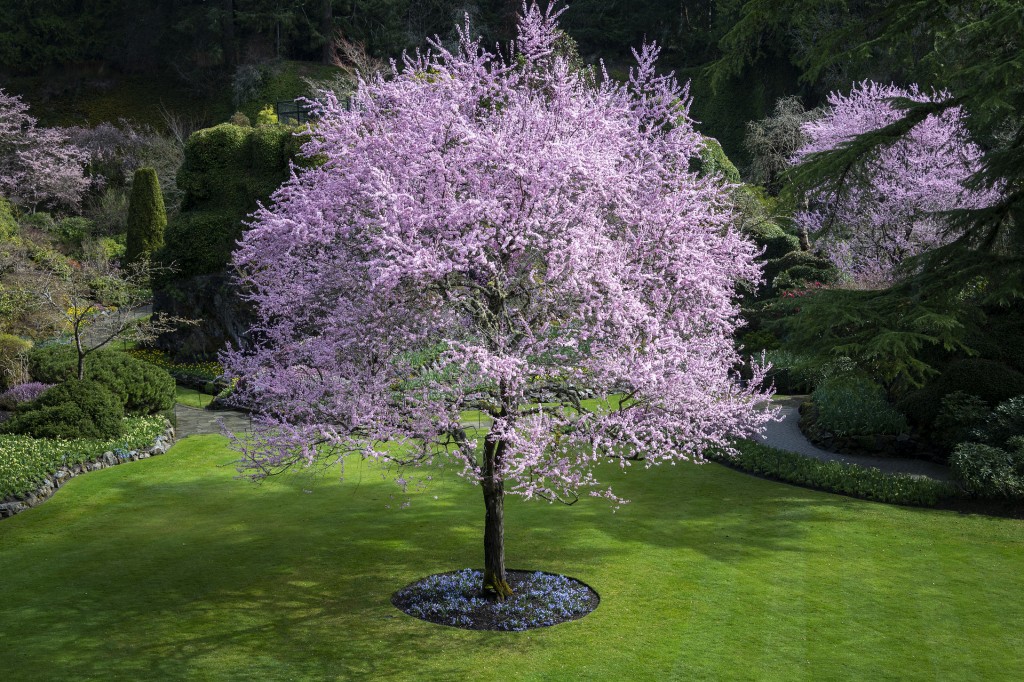 We have been most fortunate with our weather this year. It seems that we have been either behind (remember last year?) or way ahead of schedule in terms of blooms for several years. This year, we are pleasantly on schedule with no major issues that seem to affect our display. It is the perfect spring and a shame that so many will miss it this year so I will try and describe it the best that I can.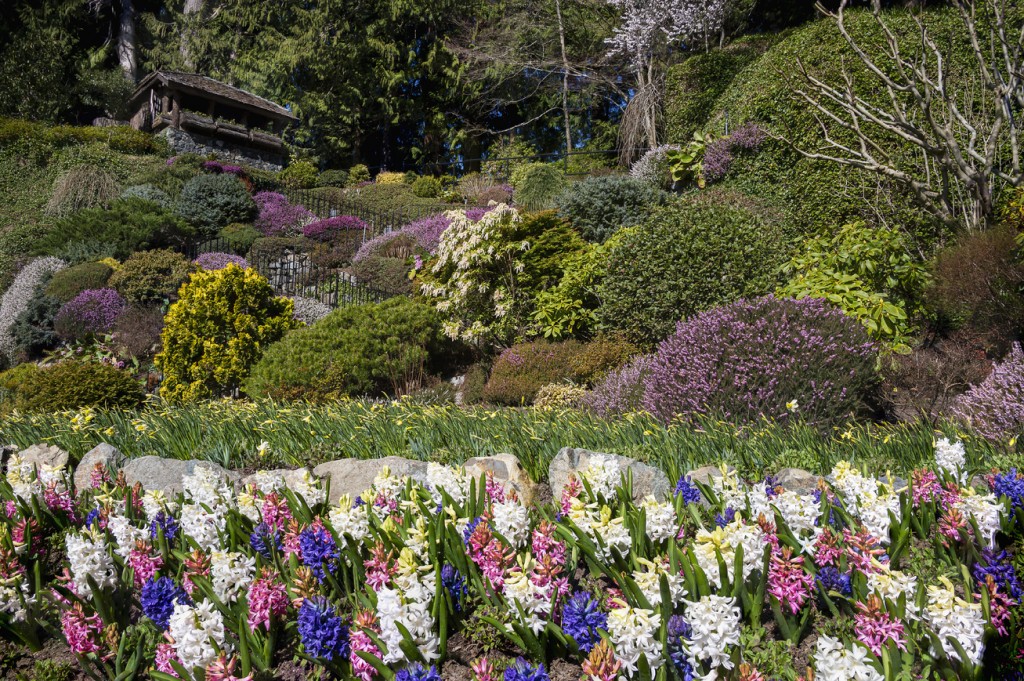 Hyacinths in bloom
It is absolutely picture perfect. Imagine lush green lawns accompanied by the sweet fragrances of spring that fill the air. Everything seems so fresh and alive with all those promising buds that are just waiting to open up and dance with all the other flowering beauties of spring.
Noteworthy is the incredible collection of Magnolia trees that have made a grand entrance with their striking blossoms. There are more than 28 varieties amongst the impressive collection here at The Gardens now flowering in full glory. The 300,000 spring bulbs that were planted in the fall have begun to gain momentum and the endless beds are filled with Hyacinthus (Hyacinth), Narcissus (Daffodil) and Tulipa (Tulip) interplanted with classic blue Myosotis (Forget-me-not) that Jennie Butchart loved so much. Drifts of blue Chionodoxa and Anemone blanda flow under the trees, exquisite blooms of Fritillaria and Trillium are deeply hidden, daring to be discovered.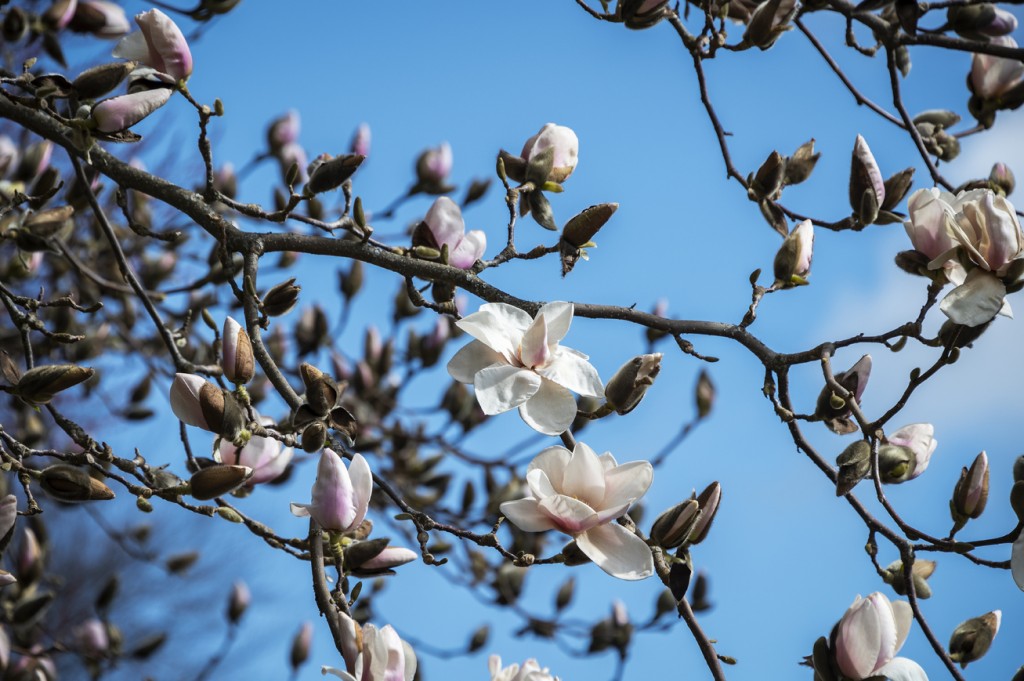 Magnolia
Truly in their prime of the season is the beautiful Daffodil flowers. Debunking the Daffodil is often a great debate. Some very extraordinary garden cultivars can be found here leading to the great question – are they all Daffodils, Narcissus or Jonquil? They are all Narcissus The genus of Narcissus has13 distinct divisions with each division distinguishing the different flower forms. All varieties are commonly known as Daffodils; however, it is the classic bright yellow trumpet shaped flower that most are familiar with. Derived from Greek mythology the name Narcissus symbolizes beauty, prosperity and wealth, and perhaps most significantly, the arrival of spring. Available in a wide range of shapes and colours; many with a subtle, alluring fragrance. The sentiment of these timeless classics was perhaps best described by William Wordsworth in his most famous poem, "I Wandered Lonely as a Cloud" written in 1804- one hundred years before The Butchart Gardens.
"I Wandered Lonely as a Cloud" (Daffodils)
I wandered lonely as a cloud
  That floats on high o'er vales and hills,
When all at once I saw a crowd,
  A host, of golden daffodils;
Beside the lake, beneath the trees,
Fluttering and dancing in the breeze.
Continuous as the stars that shine
  And twinkle on the milky way,
They stretched in never-ending line
  Along the margin of a bay:
Ten thousand saw I at a glance,
Tossing their heads in sprightly dance.
The waves beside them danced; but they
  Outdid the sparkling waves in glee:
A poet could not but be gay,
  In such a jocund company:
I gazed—and gazed—but little thought
What wealth the show to me had brought:
For oft, when on my couch I lie
  In vacant or in pensive mood,
They flash upon that inward eye
  Which is the bliss of solitude;
And then my heart with pleasure fills,
And dances with the daffodils.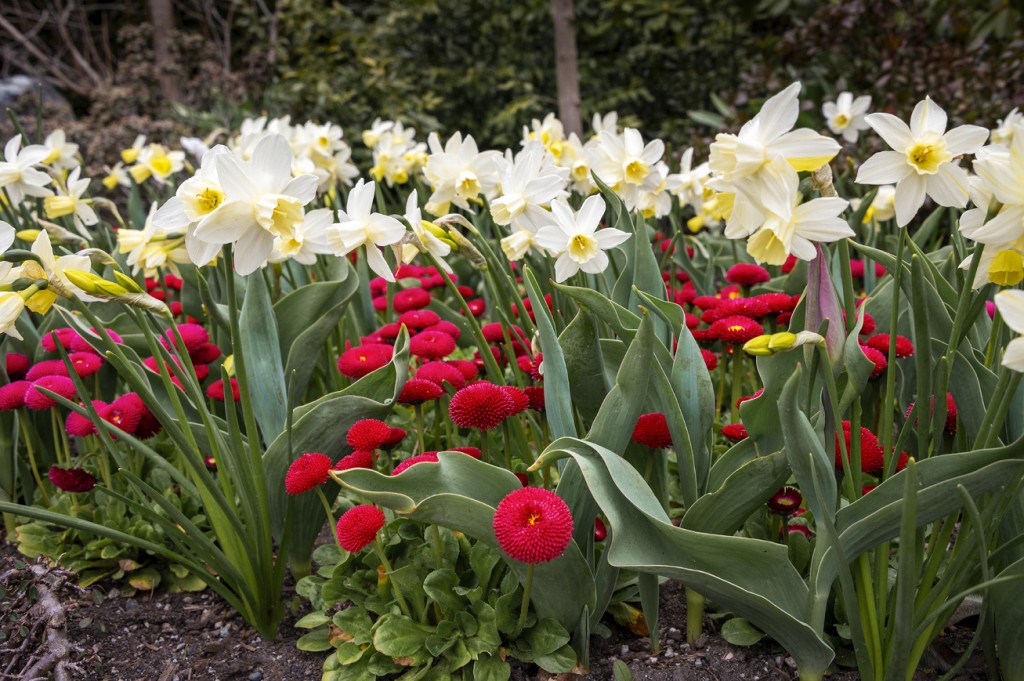 Daffodils
Plants that are currently blooming
Acacia
Amelanchier (Juneberry)
Anemone blanda (Grecian windflower)
Arabis
Aubrieta
Aucuba japonica (Spotted laurel)
Azara
Bellis (English daisy)
Bergenia (Elephant's ears)
Brunnera macrophylla (Siberian bugloss)
Caltha
Camellia
Cercis
Chaenomeles (Flowering quince)
Chionodoxa (Glory of the snow)
Corydalis
Corylopsis
Crocus
Daphne
Erica (Heather)
Erythronium (Trout lily)
Fritillaria imperialis (Crown imperial)
Fritillaria michailovsky
Kerria japonica
Helleborus (Christmas rose)
Hyacinthus (Hyacinth)
Heptacia nobilis
Iberis (Candytuft)
Iris reticula
Lysichiton (Skunk cabbage)
Magnolia
Muscari
Myosotis (Forget -me -not)
Nandina domestica (Heavenly bamboo)
Narcissus (Daffodil)
Ornithogalum (Star – of – Bethlehem)
Petasites (Coltsfoot)
Pieris (Lily -of – the valley shrub)
Polyanthus (Primula)
Pulmonaria (Lungwort)
Pulsatilla vulgaris (Pasque flower)
Primula denticulata
Prunus (Flowering plum)
Rhododendron
Rosmarinus (Rosemary)
Ribes (Flowering currant)
Scilla (Squill)
Stachyurus praecox
Trillium
Tulipa (Tulip)
Viburnum
Viola
Vinca