What's in Bloom Now? Garden Updates December 21 – January 7
By Thea Hegland
Christmas at The Gardens is a magical time. Far beyond the dazzling lights and festive décor, the peaceful ambience of the 115-year garden is enchanting in itself. From the mystical lake in The Sunken Garden where the five golden rings float elegantly on mirrored water, to the fabled smoke stack seen in a distant from the old cement factory.
An evening walk at Christmastime offers a unique opportunity to view some the most notable trees of The Gardens. Many of the old specimens of Acer palmatum dissectum (Japanese maple) have been strategically highlighted showcasing their incredible structure; reinforcing their status as garden stars. Leaving the Sunken Garden, the six Populas italica nigra (Lombardy poplar) boldly state their authority in the landscape: planted by Jennie Butchart herself in 1910, these iconic trees glow amongst the Christmas lights. Soaring above 170 feet tall stands the tallest of two Sequoia sempervirens (Coastal redwoods) located on the back path behind the Concert Lawn. Planted as seedlings in 1934 these trees have drawn much fascination from visitors and staff alike. The two Fagus sylvatica purpurea (European beech) that stand on either side of the Torii gate have been expertly decorated with fiery red lights encased in grapevine balls by our talented arborist crew.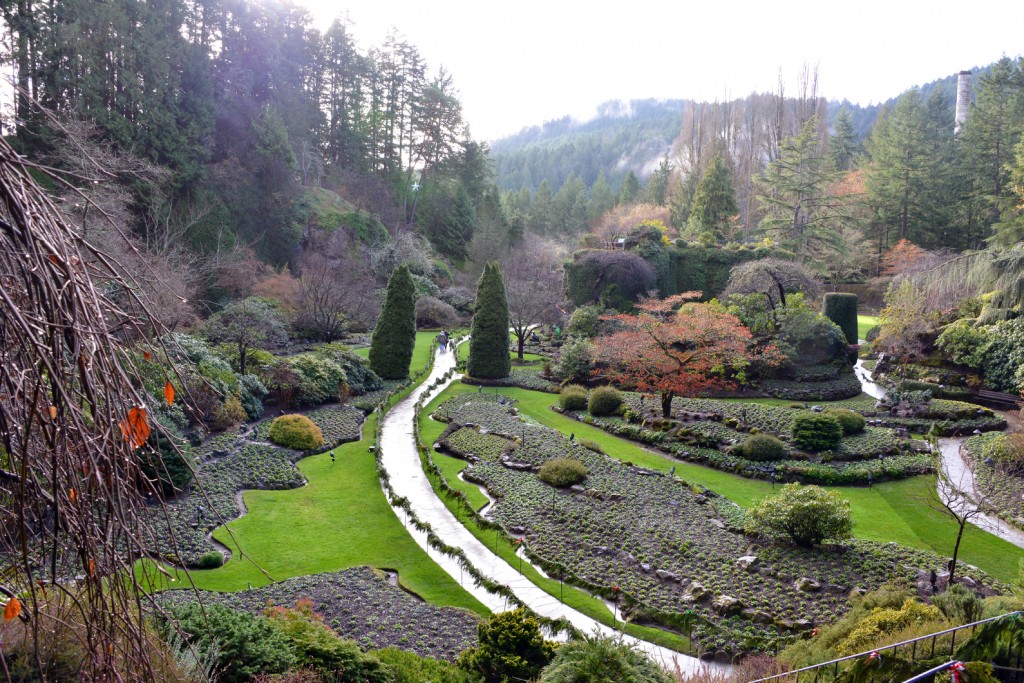 The six Lombardy poplar can be spotted to the left of the cement stack.
While most of our visitors come during the evening during the month of December, it is a pleasant surprise to those who come during the daytime. Hardy blossoms include the ever so classic Helleborus x ballardiae (Christmas rose), Viburnum bodnantense 'Dawn'with its alluring sweet fragrance, the very first of the Narcissus (Daffodil) and early glimpses of Hamamelis (Witch hazel), all which show the promise of a bright New Year.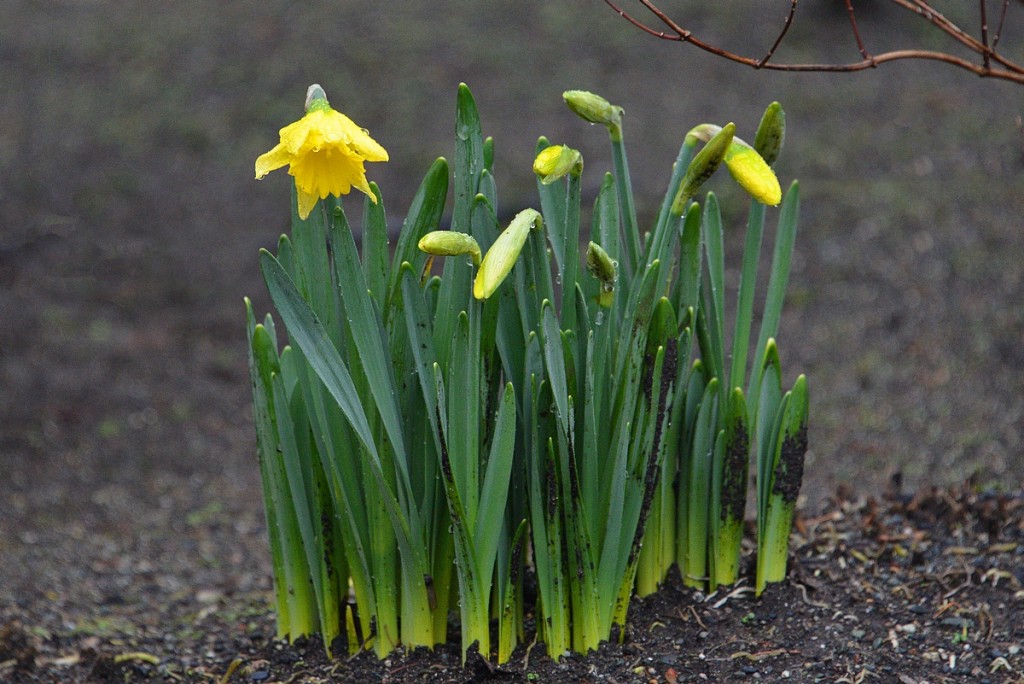 The very first of the Narcissus (Daffodil), located near the Dragon Fountain, appeared mid-December.
Plants that are currently blooming

Acer palmatum dissectum (Japanese maple)
Anthurium (Flamingo flower)
Aucuba japonica (Spotted laurel)
Bellis (English daisy)
Bergenia (Elephant's ears)
Camellia
Correa (Australian fuchsia)
Cotoneaster
Cyclamen
Erica (Heather)
Euphorbia pulcherrima (Poinsettia)
Garrya elliptica (Silk-tassel bush)
Helleborus (Christmas rose)
Ilex verticillata (Winterberry)
Kalanchoe
Jasminium nudiflorum (Winter jasmine)
Mahonia x media 'Charity' (Oregon grape)
Medinilla magnifica
Nandina domestica (Heavenly bamboo)
Ophiopogon planiscapus (Black mondo grass)
Orchid
Pansy
Pieris (Lily-of-the valley shrub)
Polyanthus (Primula)
Pyracantha
Sarcococca (Christmas box)
Skimmia japonica
Viburnum x bodnantense
Viburnum tinus
Viola