What's in Bloom Now? Garden Updates January 24 – 31
By Thea Hegland
Welcome to 2020!
Here at The Gardens, we have been very busy. The Christmas display was quickly dismantled and no sooner the experience was transported to the next season – spring. Within a small window of time, our gardening team designed and quickly laid out an incredible feast of flowers as once again, the beloved Spring Prelude opened the doors to the indoor oasis while a beautiful snow fell silently on The Gardens.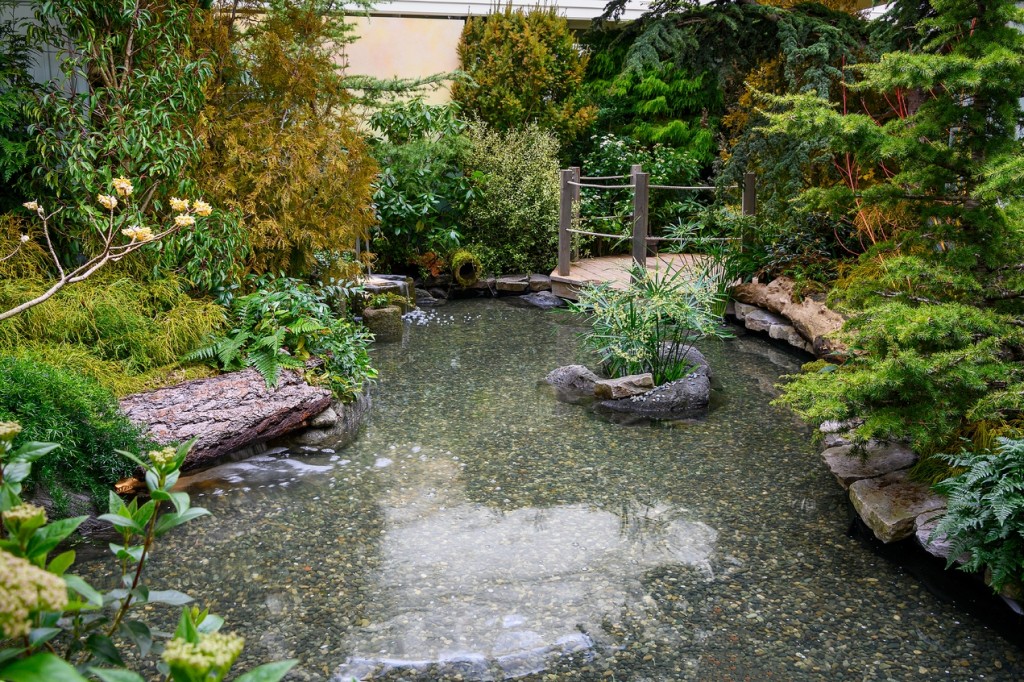 The beloved Spring Prelude indoor garden
It was a magical few days as it wasn't long before the rain came and the snow rapidly melted away leaving The Gardens lush, green and refreshing. Beautiful. Simple. Even a cool, gray winter day enshrouded in the mist offers a certain mystic and wonderment.
Out in The Gardens you can find hardy blossoms such as Erica (Heather), Camellia and Helleborus (Hellebore) with subtle pops of colour that liven up the winter days.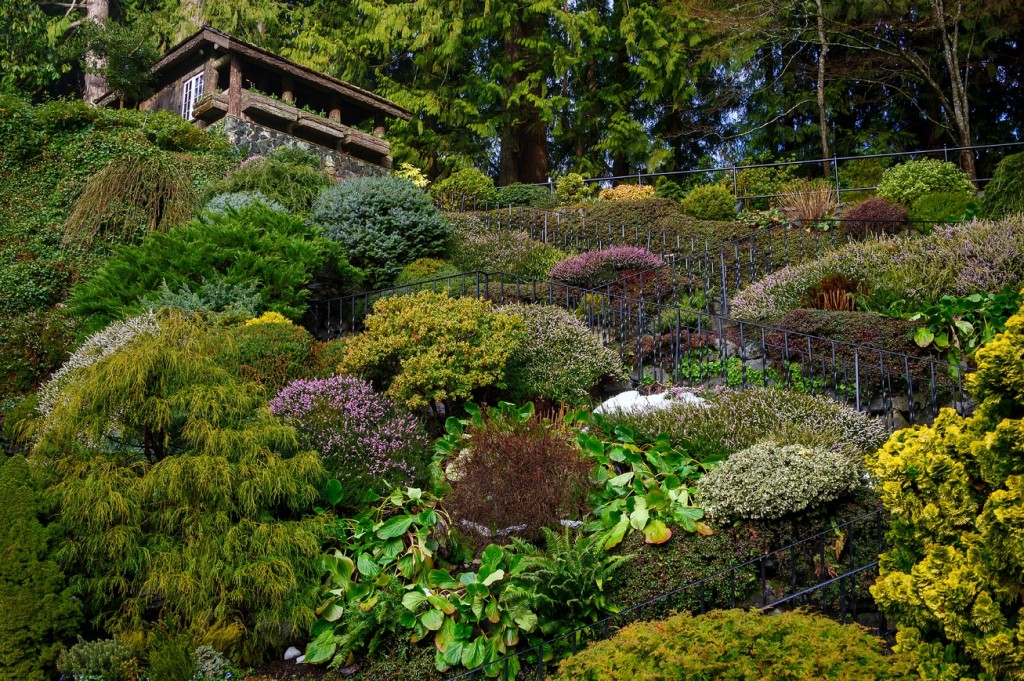 Erica (Heather) adding subtle pops of colour to the steps into the Sunken Garden

Escape indoors to spring to the Spring Prelude and discover evolving displays of flowering plants, including plenty of Narcissus (Daffodil) and Tulipa (Tulip) in bloom to keep us content until the real thing begins outdoors. Noteworthy is the mysterious Edgeworthia (Paperbush) with the luxurious scent which is capturing attention. Amongst the tropical display you will be impressed by the many Phalenopsis orchids in a wide range of colours and the Amaryllis with decadent trumpet shaped flowers. In Greek mythology the par excellence blooms of the Amaryllis are known for sheer determination; they are relentless, prevailing flowers that demand admiration.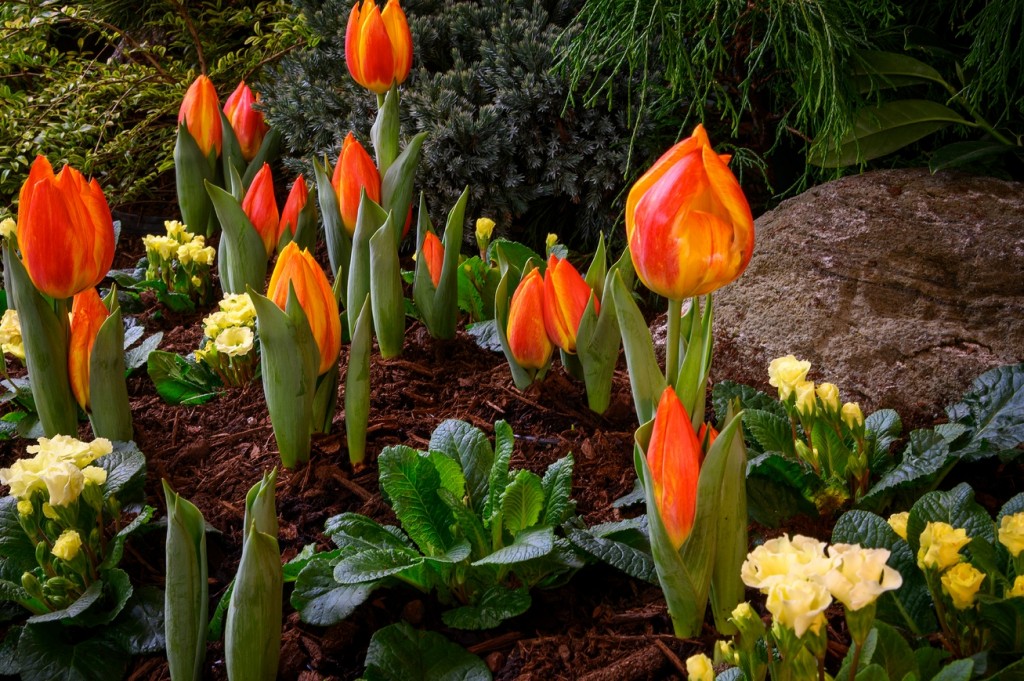 Tulipa (Tulip) and Polyanthus (Primula) blooming inside the Spring Prelude

For now, it looks like rain will be in our forecast for the foreseeable future, but rest assured, there is beauty all around, rain or shine.
Outside: Plants that are currently blooming
Acer palmatum dissectum (Japanese maple)
Aucuba japonica (Spotted laurel)
Bellis (English daisy)
Bergenia (Elephant's ears)
Camellia
Cornus mas
Correa (Australian fuchsia)
Cotoneaster
Cyclamen
Daphne odora
Erica (Heather)
Erysimum (Wallflower)
Galanthus (Snowdrop)
Garrya elliptica (Silk- tassel bush)
Hamamelis (Witch hazel)
Helleborus (Christmas rose)
Ilex verticillata (Winterberry)
Jasminium nudiflorum (Winter jasmine)
Mahonia x media 'Charity' (Oregon grape)
Nandina domestica (Heavenly bamboo)
Narcissus (Daffodil)
Ophiopogon planiscapus (Black mondo grass)
Pansy
Pieris (Lily -of – the valley shrub)
Polyanthus (Primula)
Pyracantha
Rhododendron
Sarcococca (Christmas box)
Skimmia japonica
Viburnum x bodnantense
Viburnum tinus
Viola
Inside: Plants that are currently blooming
Amaryllis
Anthurium (Flamingo flower)
Azalea
Bromeliad
Camellia
Crocus
Cyclamen
Edgeworthia chrysantha (Paper bush)
Erica (Heather)
Hamamelis (Witch hazel)
Helleborus (Christmas rose)
Iris reticulata
Kalanchoe
Loropetalum chinese 'Razzleberri'
Magnolia x soulangeana (Saucer magnolia)
Narcissus (Daffodil)
Ophiopogon planiscapus (Black mondo grass)
Orchid
Pieris (Lily -of – the valley shrub)
Pinus strobus 'Louie'
Polyanthus (Primula)
Prunus (Flowering plum)
Sarcococca (Christmas box)
Sciadopitys verticillate (Japanese umbrella pine)
Skimmia japonica
Stromanthe
Tulipa (Tulip)
Viburnum x bodnantense
Viburnum tinus
Viola