What's in Bloom Now? Garden Updates June 30 – July 14
By Thea Hegland
Ahh summer…. Rose after Rose tumbling and spilling over arches, rich shades of pink and red, pristine white, tropical tones of oranges and cheerful yellows – there is simply nothing not to love. The sweet perfume and exquisite blossoms of our Rose collection draw you into the heart of The Gardens. Find yourself immersed amongst the 250+ varieties and 2500 plants of assorted Hybrid Tea, Grandiflora, Floribunda, Rambler, Climber, Rugosa, Standard and old-fashioned Roses.
Other flowering highlights this week include over 30 varieties of Hemerocallis (Daylily) and approximately 40 varieties of Lilium (Lily). Located throughout the grounds perfectly placed in the many perennial borders, these flowers are bright stars in the garden.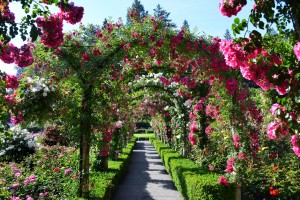 Rose after Rose tumbling and spilling over arches
Elsewhere in The Gardens you will find plenty of interest to keep you amused. It seems we are not alone in the gardenlust; settled into life by the lake, a family of friendly native owls have made a happy home in the Sunken Garden. Perched in the trees by the lake, they have captured the hearts of all who wander these paths.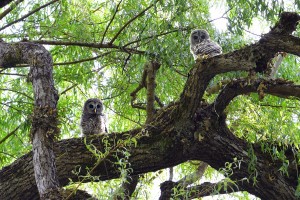 Owl pair keeping watch over the Sunken Garden
With the long summer evenings comes the incredible line-up of talented live music on the Concert Lawn Stage. The evening air is sweet and the soft sunlight filters through the trees as the sun sets, harmonizing with the music, creating a magical ambience that lingers in our memories. This truly a unique experience is the perfect way to end a beautiful day at The Gardens.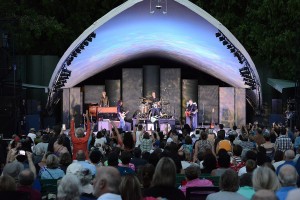 Summer Entertainment every night through July and August
Plants that are currently blooming
Abutilon
Acanthus (Bear's breeches)
Achillea (Yarrow)
Alocasia (Elephant's ear)
Antirrhinium (Snapdragon)
Astilbe
Anthriscus sylvestris 'Ravenswing'
Aruncus (Goat's beard)
Astrantia
Baptisia (False indigo)
Begonia (Tuberous and fibrous)
Brugmansia (Angels' trumpets)
Calceolaria (Scotsman's purse)
Cardiocrinium (Giant lily)
Catalpa
Cephalaria gigantea (Yellow scabious)
Centaurea montana
Chionanthus virginicus (Fringe tree)
Cladatris lutea (Kentucky yellowwood)
Clematis
Colocasia (Taro)
Cornus kousa (Korean dogwood)
Crambe
Delphinium
Deutzia
Dianthus
Digitalis (Foxglove)
Disporum (Fairy bells)
Eremurus (Foxtail lily)
Fuchsia
Heliotropium (Cherry pie plant)
Hemerocallis (Daylily)
Hibiscus
Hydrangea
Hypericum (St. John's wort)
Inula
Impatiens
Iochroma cyanea
Lantana
Leptospermum (Tea tree)
Lobelia
Maglieta
Matthiola (Stock)
Meconopsis (Blue poppy)
Pachystachys lutea (Lollipop plant)
Pelargonium (Geranium)
Pentas
Persicaria (Knotweed)
Petasites
Phlomis
Poncirus trifoliata (Hardy orange)
Punica granatum (Pomegranate)
Rheum
Romneya coulteri (Tree poppy)
Rosa (Rose)
Salvia
Spartium junceum (Spanish broom)
Stachys marcantha
Styrax japonicus (Japanese snowbell)
Syringa reticulata (Japanese tree lilac)
Tagetes (Marigold)
Tecoma
Thalictrum (Meadow rue)
Torenia
Tradescantia (Spiderwort)
Viburnum
Viola
Weigela
Wisteria