What's in Bloom Now? Garden Updates March 1 – 7
By Thea Hegland
Quiet and covered under a blanket snow, the flowers of the garden remain in a slumber. What lies beneath is a mystery; late winter and early spring flowering bulbs will soon reveal themselves after a few days of sunshine and warmer weather. Hopefully the snow has not caused too much of a setback, and rather, acted as insulation against the bitter cold.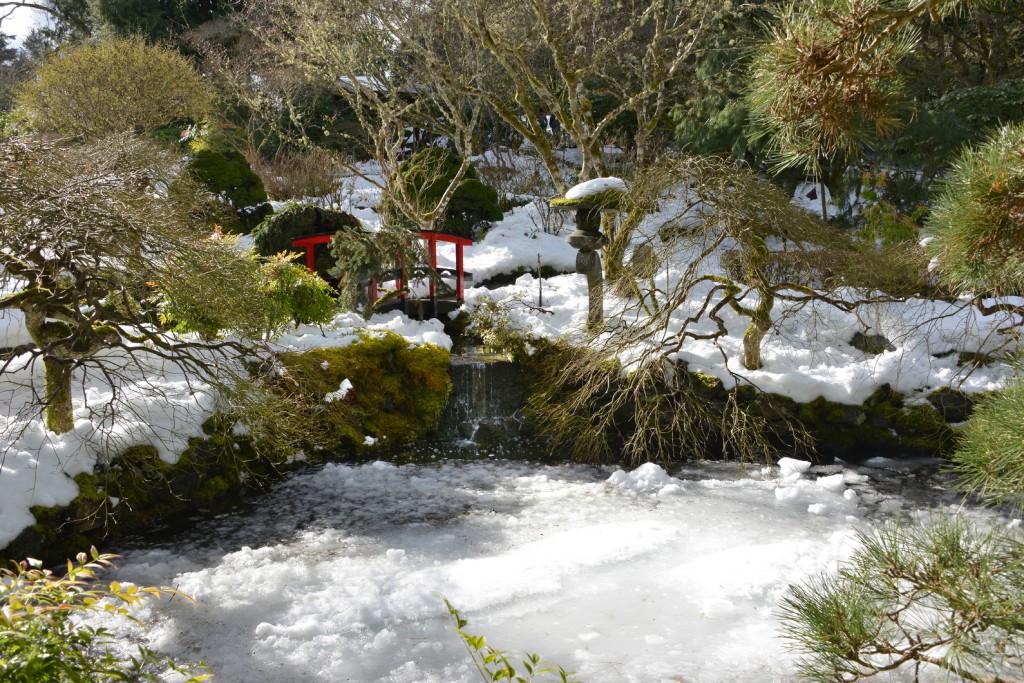 While most of Victoria has not seen any snow on the ground in weeks, some leftovers still remain on our flower beds and shrubs
The gardeners have been busy shoveling snow, clearing paths and rescuing shrubs and trees that were covered as a result of February's winter storm. The weight of the snow can cause branches to break, which, as any plant lover knows, can be very heartbreaking. So far, we have been fortunate and minimal damage has been reported.
The snowy walk through The Gardens is full of beauty. Mature deciduous trees and shrubs covered in lichen and moss capture attention with their graceful structure; the varied colours of the conifers stand out against the pristine snow. The best part of all? This magical garden is virtually silent.
Venture into the Spring Prelude and be immediately transported ahead to the feverish time of Spring. Here you will find Magnolia, Camellia and Rhododendron blossoms in an indoor oasis. Beds filled with Tulips, Daffodils and other spring treasures remind us that it is only a matter of time under the real thing arrives. But for now, there is the Spring Prelude, and you will only find it here.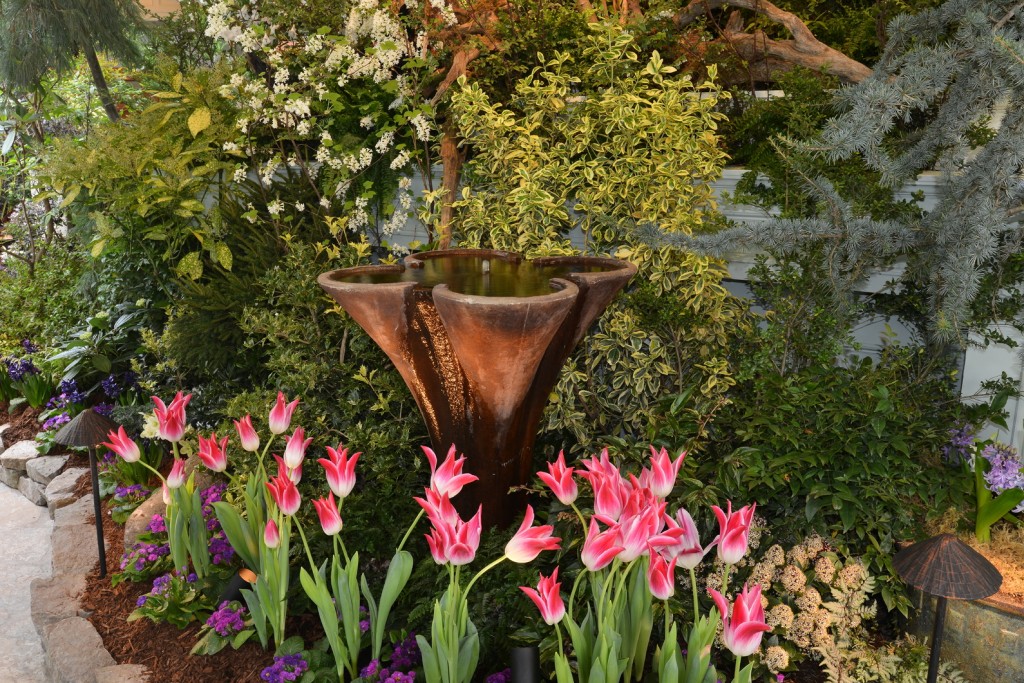 Tulips are dancing in the Spring Prelude garden these days. See them until March 17.
Outside: Plants that Are Currently Blooming

Acer palmatum dissectum (Japanese maple)
Aucuba japonica (Spotted laurel)
Bellis (English daisy)
Bergenia (Elephant's ears)
Camellia
Cornus mas
Correa (Australian fuchsia)
Cotoneaster
Cyclamen
Daphne odora
Eranthis (Winter aconite)
Erica (Heather)
Eriobotrya  japonica (Loquat)
Galanthus (Snowdrop)
Garrya elliptica (Silk- tassel bush)
Hamamelis (Witch hazel)
Helleborus (Christmas rose)
Ilex verticillata (Winterberry)
Jasminium nudiflorum (Winter jasmine)
Mahonia x media 'Charity' (Oregon grape)
Nandina domestica (Heavenly bamboo)
Narcissus (Daffodil)
Ophiopogon planiscapus (Black mondo grass)
Pansy
Pieris (Lily -of – the valley shrub)
Polyanthus (Primula)
Pyracantha
Rhododendron
Sarcococca (Christmas box)
Skimmia japonica
Viburnum x bodnantense
Viburnum tinus
Viola
Inside: Plants that are currently blooming

Amaryllis
Anthurium (Flamingo flower)
Azalea
Bromeliad
Camellia
Cercis
Convallaria (Lily-of-the-valley)
Crocus
Cyclamen
Daphne odora (Winter daphne)
Edgeworthia chrysantha (Paper bush)
Erica (Heather)
Hamamelis (Witch hazel)
Helleborus (Christmas rose)
Iris reticulata
Kalanchoe
Loropetalum chinese 'Razzleberri'
Magnolia x soulangeana (Saucer magnolia)
Narcissus (Daffodil)
Ophiopogon planiscapus (Black mondo grass)
Orchid
Pachystachys lutea (Lollipop plant)
Pieris (Lily-of-the valley shrub)
Pinus
Polyanthus (Primula)
Primula denticulata (Drumstick primula)
Prunus (Flowering plum)
Ribes (Flowering currant)
Sarcococca (Christmas box)
Sciadopitys verticillate (Japanese umbrella pine)
Skimmia japonica
Stromanthe
Tulipa (Tulip)
Viburnum x bodnantense
Viburnum tinus
Viola