What's in Bloom Now? Garden Updates May 12-18
By Thea Hegland
It has been an incredible week of change here at The Gardens. The shifting of seasons has begun as we say goodbye to the incredible Tulip show for the year. Although some Tulips still linger, our primary focus now is on the exciting new wonders of the garden.
The big question:
"What do we do with all our bulbs when they are done flowering for the season?"
Soon all the Tulipa (Tulip), Hyacinthus (Hyacinth) and Narcissus (Daffodil) will be removed from the flower beds as we start planting our summer annuals. Many of the Narcissus (Daffodil) can be used in the background areas of The Gardens for next year whereas the Tulips are all recycled into our compost system.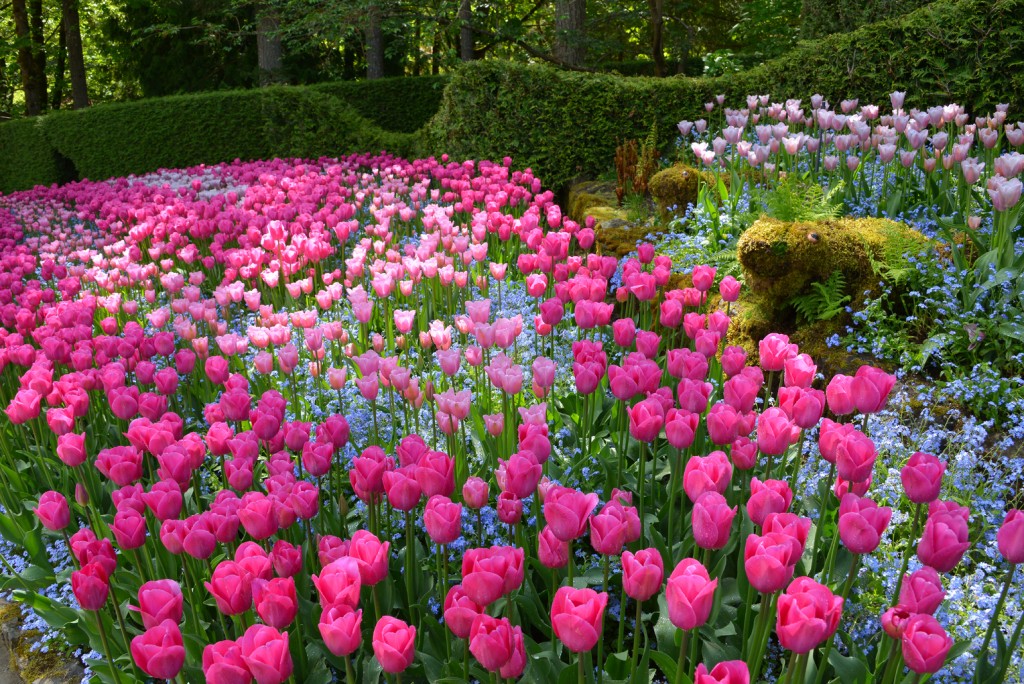 This has been our practice here for many, many years as we need to remove the bulbs from the flower beds in a timely fashion so the summer planting season can begin. Unfortunately for the Tulips this is before they have had the opportunity to die back naturally which is imperative to feed all the nutrients back into the bulb.  They simply just do not provide beautiful flowers the following year when they are prematurely pulled up, therefore, each year we order new bulbs to ensure we are able to provide the spectacular spring show that The Gardens are famous for.
This week's garden highlights include the remarkable Davidia involucrata (Dove tree, Ghost tree Handkerchief tree) located along the Top Walk here at The Gardens and above the Sunken Garden as you approach The Concert Lawn. These trees are covered with showy white bracts that capture the eye; hence the many common names!
Pretty in pink the amazing Prunus 'Kanzan' with its stunning double, deep pink flowers streaming through The Gardens with the final blast of spring flowering cherries. Old fashioned favourite Syringa (Lilac) have arrived just in time for Mother's Day to fill the garden air with its nostalgic fragrance.
At last, the first glimpse of our famous Meconopsis betonicifolia (Himalayan blue poppy) has appeared in the Japanese Garden and signaling all is well as we approach the next season in the garden.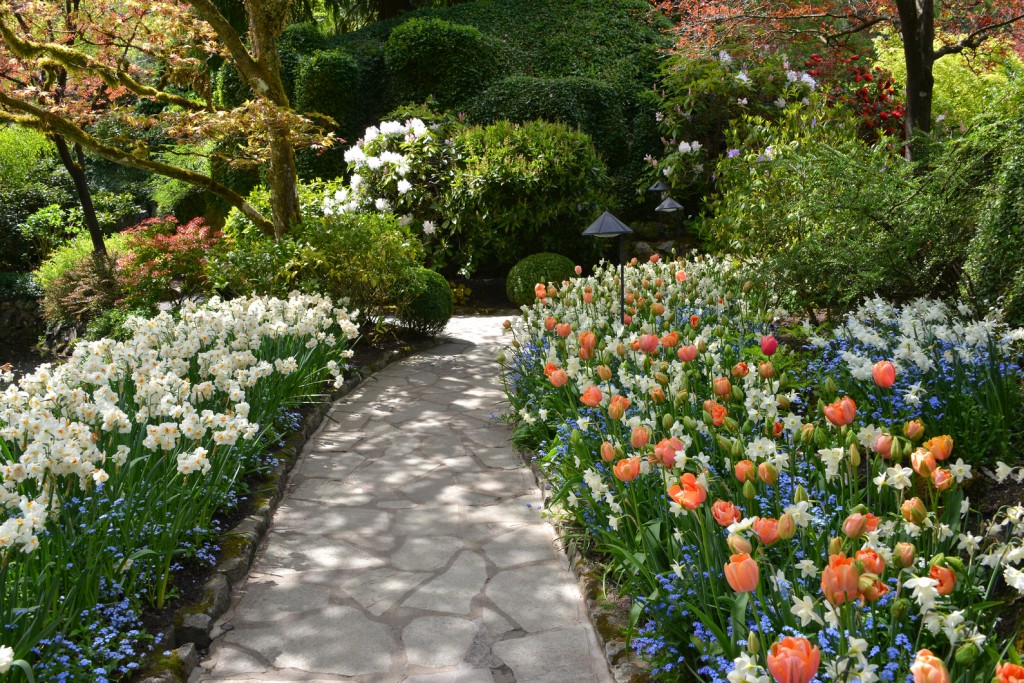 Plants that are currently blooming:
Aesculus (Horse chesnut)
Allium
Anemonella (Rue anemone)
Anthriscus sylvestris 'Ravenswing'
Aquilegia (Columbine)
Arabis
Arisarium probosicideum (Mouse plant)
Aubrieta
Aucuba japonica (Spotted laurel)
Bellis (English daisy)
Bergenia (Elephant's ears)
Brunnera macrophylla
Camellia
Caltha (Marsh marigold)
Centaurea montana
Cercis chinensis (Chinese redbud)
Chaenomeles (Flowering Quince)
Convallaria (Lily- of-the-valley)
Cornus florida
Cornus nuttallii (Pacific dogwood)
Daphne collina
Davidia involucrata (Dove tree)
Deutzia
Dicentra (Bleeding heart)
Digitalis (Foxglove)
Doronicum (Leopard's bane)
Epimedium (Barren wort)
Eremurus (Foxtail lily)
Erica (Heather)
Erysimum (Wallflower)
Fritillaria imperialis (Crown imperial)
Gentiana (Gentain)
Geum
Globularia (Globe daisy)
Halesia (Snowdrop tree)
Hyacinthoides (Bluebell)
Illicium
Iris
Kerria japonica
Laburnum (Golden chain tree)
Leucojum (Snowflake)
Lysichiton (Skunk cabbage)
Malus (Crabapple)
Matthiola (Stock)
Meconopsis (Blue poppy)
Myosotis (Forget-me-not)
Narcissus (Daffodil)
Ornithogalum
Pachystachys lutea (Lollipop plant)
Paeonia lutea (Tree peony)
Pericallis (Painted daisy)
Petasites
Polemonium (Jacob's ladder)
Podophyllum (Mayapple)
Polygala chamaebuxus
Poncirus trifoliata (Hardy orange)
Pulmonaria (Lungwort)
Pulsatilla vulgaris (Lungwort)
Pieris (Lily -of – the valley shrub)
Primula (Primrose)
Prostanthera rotundifolia (Mint bush)
Prunus (Flowering cherry)
Ranunculus ficaria 'Brazen Hussey'
Rheum
Rhododendron
Rubus spectabilis (Salmonberry)
Schizanthus (Butterfly flower)
Skimmia japonica
Spiraea (Spirea)
Smilacina (False Solomon's seal)
Syringa (Lilac)
Trillium ovatum
Trochodendron araliodes (Wheel tree)
Trollius (Globeflower)
Tulipa
Viburnum tinus
Vinca (Periwinkle)
Viola
Wisteria