What's in bloom now? Garden updates May 26 – June 2
By Thea Hegland
Summer is in the air and the excitement is mounting each day as new flowers magically appear. The gardeners have been diligently planting after the spring show collapsed suddenly. The recent crazy weather; heat, torrential rain, wind all followed up by a mini heat wave was just too much for the spring display to handle.
The transformation of the flower beds from spring to summer is a blur really, there is simply too many other flowering distractions along the borders to marvel at and before you know it, the summer planting is complete and the summer show begins to take hold.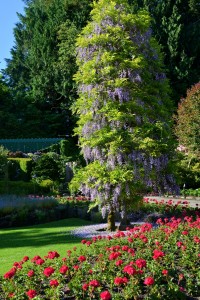 The first few Roses have shown some colour in the Rose Garden, along with the beautiful blue Delphinium that borders the Rose Garden with its complementary contrast. In shady areas of The Gardens, the classic beauty of Digitalis (Foxglove) can be found towering high with its pastel bell-shaped flowers.
Highlights this week include over 69 varieties of Iris. My favourite is the exquisite and mysterious 'Superstition 'which is a deep dark purple, almost black bearded Iris. Late spring flowering shrubs like Weigela 'Wine and Roses', Deutzia, Kolkwitzia (Beauty bush) and the fragrant Korean spice Viburnum help keep us pacified until the summer blossom explosion hits The Gardens.
Plants that are currently blooming
Aesculus (Horse chesnut)
Allium
Anthriscus sylvestris 'Ravenswing'
Aquilegia (Columbine)
Begonia
Centaurea montana
Convallaria (Lily- of-the-valley)
Cornus florida
Cornus kousa (Korean dogwood)
Crataegus (Hawthorn)
Davidia involucrata (Dove tree)
Delphinium
Deutzia
Dicentra (Bleeding heart)
Digitalis (Foxglove)
Disporum (Fairy bells)
Doronicum (Leopard's bane)
Epimedium (Barren wort)
Eremurus (Foxtail lily)
Fuchsia
Fraxinus ornus (Flowering ash)
Gentiana (Gentain)
Geum
Globularia (Globe daisy)
Halesia (Snowdrop tree)
Hemerocallis (Daylily)
Hydrangea petiolaris (Climbing Hydrangea)
Illicium
Iris
Laburnum (Golden chain tree)
Lantana
Matthiola (Stock)
Meconopsis (Blue poppy)
Nectaroscordum
Pachystachys lutea (Lollipop plant)
Paeonia (Peony)
Paeonia lutea (Tree peony)
Pelargonium (Geranium)
Pericallis (Painted daisy)
Petasites
Polemonium (Jacob's ladder)
Podophyllum (Mayapple)
Poncirus trifoliata (Hardy orange)
Primula (Primrose)
Prostanthera rotundifolia (Mint bush)
Rheum
Rhododendron
Rosa (Rose)
Schizanthus (Butterfly flower)
Skimmia japonica
Spiraea (Spirea)
Smilacina (False Solomon's seal)
Stachys marcantha
Syringa (Lilac)
Tradescantia (Spiderwort)
Viburnum
Viola
Weigela
Wisteria