What's in Bloom Now? Garden Updates May 3 – 9
By Thea Hegland
It's a magical time in The Gardens. Still soaking in the grandeur of the stunning spring bulb display with the flowering Cherries lightly drifting through the air with a sweet fragrance, May has come along with a rapture of Rhododendron blooms in every imaginable colour.
The impressive collection at The Gardens includes well over 400 different varieties and thousands of shrubs. It is considered one of the largest and most diverse in the world. Collected for over one hundred years, there are many old classics including 'Chevalier Felix de Sauvage' and 'Pink Pearl' that still remain in The Gardens today. The Rhododendron collection is a fundamental staple of the late spring show with their showy blossoms and providing solid evergreen structure to The Gardens throughout the year.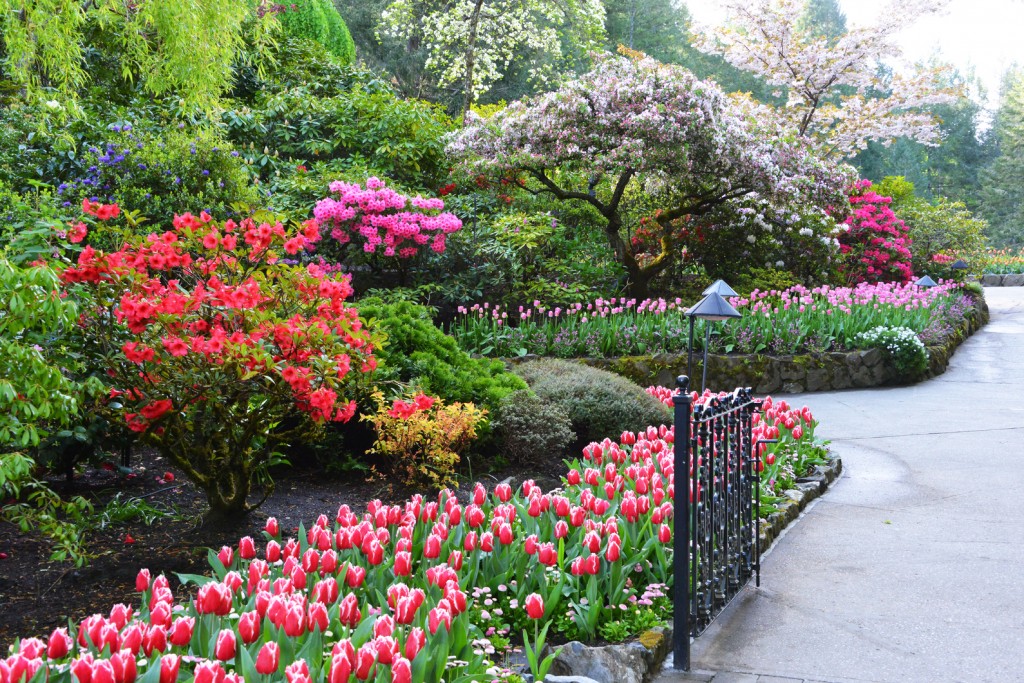 Tulips, Rhododendron and Azalea all blooming in spectacular harmony
Our most famous flower, the rare and elusive Meconopsis baileyi (Himalayan blue poppy) is full of promising buds set to unveil its beautiful blue flowers. The first blooms usually are around mid-May and last until Mid-June. Considered difficult to grow for the amateur gardener, these beauties are worth all the fuss and attention. Germination of the seed is extremely tricky and transplanting the fragile plants are yet another challenge. Here at The Gardens, it's all in the timing. Under close monitoring by our expert germinator, they are sown indoors in early spring with fresh seed. The trick is to keep the seedlings moist, but never standing in water as they are easily prone to dampening off. Seedlings should be transplanted outdoors when the second set of leaves emerge into a humid, shady spot. This is a very fragile process as the Meconopsis seedlings do not respond well to transplanting even under the most ideal conditions. Success includes incredible patience, a tender touch and considerable luck!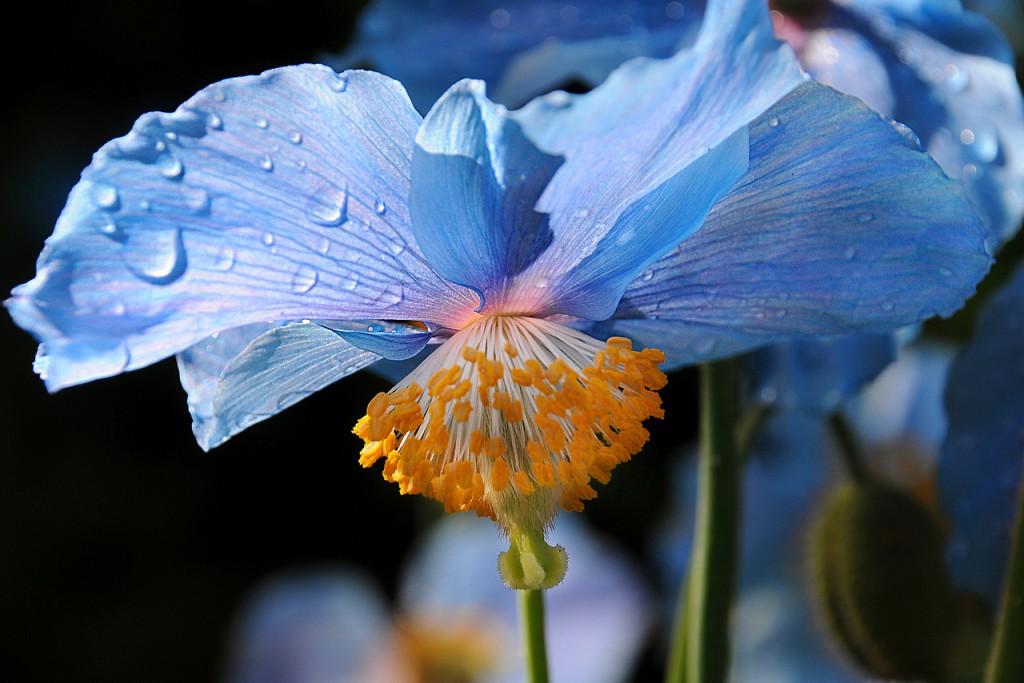 Meconopsis baileyi (Himalayan blue poppy) in blooms during a previous spring season
Plants that are currently blooming
Acacia
Allium
Amelanchier (Juneberry)
Anemone blanda (Grecian windflower)
Aubrieta
Azara
Bellis (English daisy)
Bergenia (Elephant's ears)
Brunnera macrophylla (Siberian bugloss)
Caltha
Camellia
Cornus (Dogwood)
Doronicum (Leopard's bane)
Erythronium (Trout lily)
Exochorda (Pearlbush)
Fritillaria imperialis (Crown imperial)
Gentiana (Gentian)
Kerria japonica
Helleborus (Christmas rose)
Hyacinthus (Hyacinth)
Iris
Lewisia
Lysichiton (Skunk cabbage)
Magnolia
Malus (Crabapple)
Muscari (Grape hyacinth)
Myosotis (Forget -me -not)
Narcissus (Daffodil)
Pericallis (Painted daisy)
Pieris
Polyanthus (Primula)
Pulmonaria (Lungwort)
Primula pulveralenta (Candelabra primula)
Prostanthera (Mint bush)
Prunus (Flowering cherry)
Rhododendron
Rubus spectabilis (Salmonberry)
Schizanthus (Poor man's orchid)
Scilla (Squill)
Trillium
Tulipa (Tulip)
Viburnum
Viola
Vinca