What's in Bloom Now? Garden Updates October 13 -19
By Thea Hegland
Now is the time to enjoy the golden days that lie ahead with a leisurely walk amongst the beauty of the changing leaves. By the time mid-October hits, the fall colours on the impressive collection of deciduous trees in The Gardens have begun to take hold. And impressive they are; from the gorgeous grounds of the car park towering with dreamy trees, to the depth of the stunning Japanese Garden where the outstanding Acer palmatum 'Osakazuki' shines with its brilliant red leaves.
Other changes in the flora at the end of the season offer some of the most incredible exhibits. A visit to the Plant Identification Centre (located in the Visitor Centre beside the Coffee Shop) offers a closer look at some of the unusual plants seen here at The Gardens and the knowledgeable staff are available to quiz and query.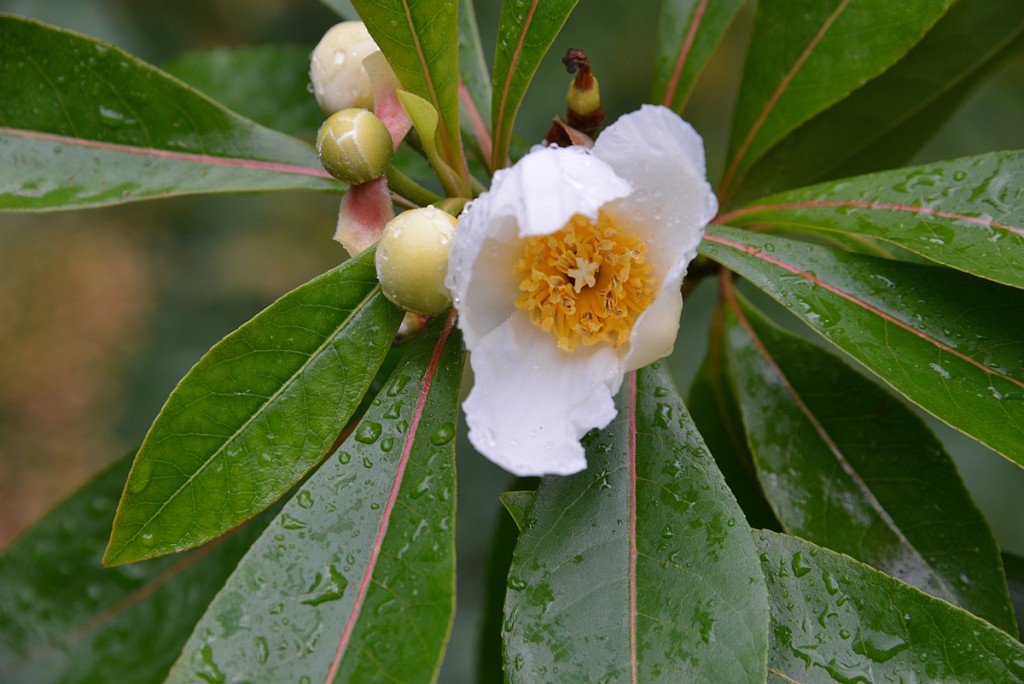 Gordlinia x grandiflora (Mountain gordlinia)
Simply at its best now is Heptacodium miconioides (Seven-son flower) with its showy rose-coloured calyces. Considered a rare outstanding garden specimen, it captures the interest of plant enthusiasts. In the Japanese Garden, be sure to look for another garden treasure – Gordlinia x grandiflora (Mountain gordlinia). This sweet fragrant shrub with delicate white flowers reigns from southern USA.
The amazing parade of Dahlias remain the pulse of the October floral showcase and a promising stretch of warm weather that lies ahead will ensure these incredible and dynamic beauties remain strong. A flower symbolic of inner strength and the ability to remain graceful under pressure, these powerhouse blossoms derive from Mexico.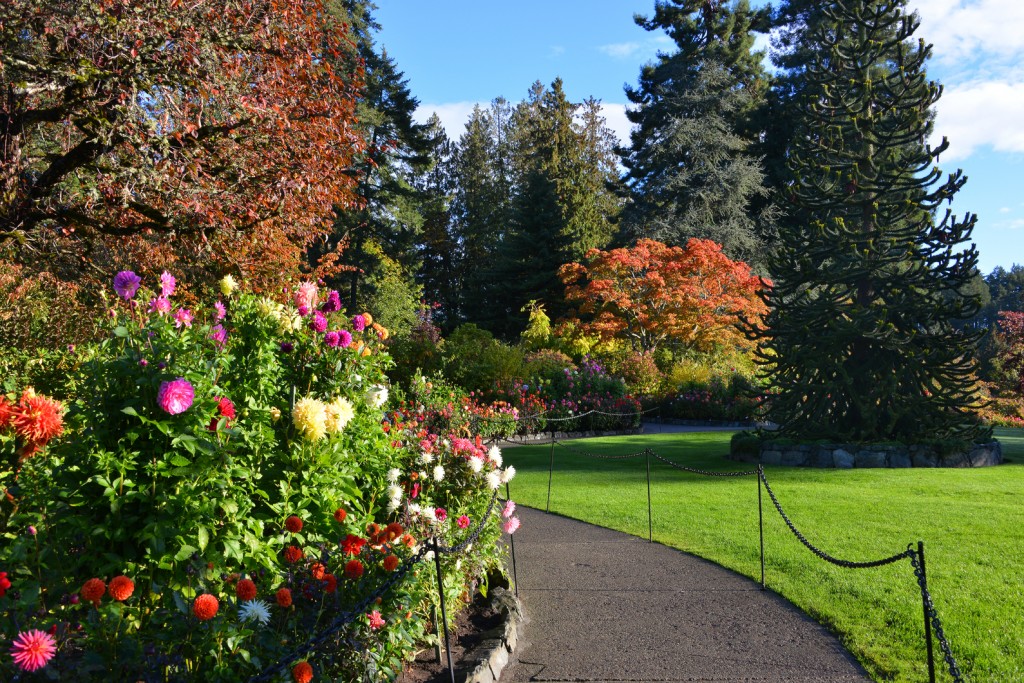 The expansive Dahlia border is in glorious bloom this week.
After Thanksgiving the gardeners start the daunting tasks of removing select flower beds in preparation of the 300, 000 bulbs that are due to arrive from overseas. Some of the tender shrubs and bedding plants will be returned to the greenhouses to overwinter, whereas others will feed our rich compost! Often, it seems sacrilege to dismantle a seemingly glorious flower bed but sometimes, you just have to do it. At this point, it is just a matter of time until all the flower beds are methodically planted over the next three weeks. It is amazing to watch the gardeners in action… consider it all part of the entertainment!
Plants that are currently blooming
Abutilon (Flowering maple)
Acer (Japanese maple)
Achillea (Yarrow)
Aconitum (Monkshood)
Anemone x hybrida (Japanese anemone)
Angelonia
Anigozanthos (Kangaroo paw)
Aralia elata (Japanese angelica tree)
Arum italicum (Lords and ladies)
Aster (Michaelmas daisy)
Begonia
Callicarpa
Celosia (Cockscomb)
Chrysanthemum
Clerodendrum bungei (Glory bower)
Clerodendrum trichotomum (Glory bower)
Colchium (Autumn crocus)
Cosmos atrosanguineus (Chocolate cosmos)
Cyclamen coum
Dahlia
Fuchsia
Gazania
Gordlinia x grandiflora (Mountain Gordlinia)
Helenium (Sneezeweed)
Helianthus (Perennial sunflower)
Heliopsis (Ox eye)
Heptacodium miconioides (Seven –son flower)
Hydrangea
Iochroma
Justicia (Shrimp plant)
Lobelia speciosa
Manettia (Firecracker vine)
Osteospermum (Cape daisy)
Pennisetum setaceum (Purple fountain grass)
Penstemon (Bearded tonque)
Punica (Pomegranate)
Rosa (Rose)
Rudbeckia (Gloriosa daisy)
Schizostylis (Kaffir lily)
Sedum (Stonecrop)
Solanum
Solidago (Goldenrod)
Tibouchina (Glory bush)
Tricyrtis (Toad lily)
Verbena