What's in Bloom Now? Garden Updates October 20 – 26
By Thea Hegland
It has been an incredibly busy week here at The Gardens. With the arrival of the spring bulbs from Holland, the gardening team is ready for action. First, the unpacking and sorting of the bulbs takes precedent. The eager gardeners will be able to start planting the bulbs once they are carefully sorted and organized. They have been busy working away at the removal of the many flower beds in preparation for planting season and as this work is being done, a new layer of beauty is slowly being exposed. Without all the flowers, the stunning trees of the garden shine all on their own.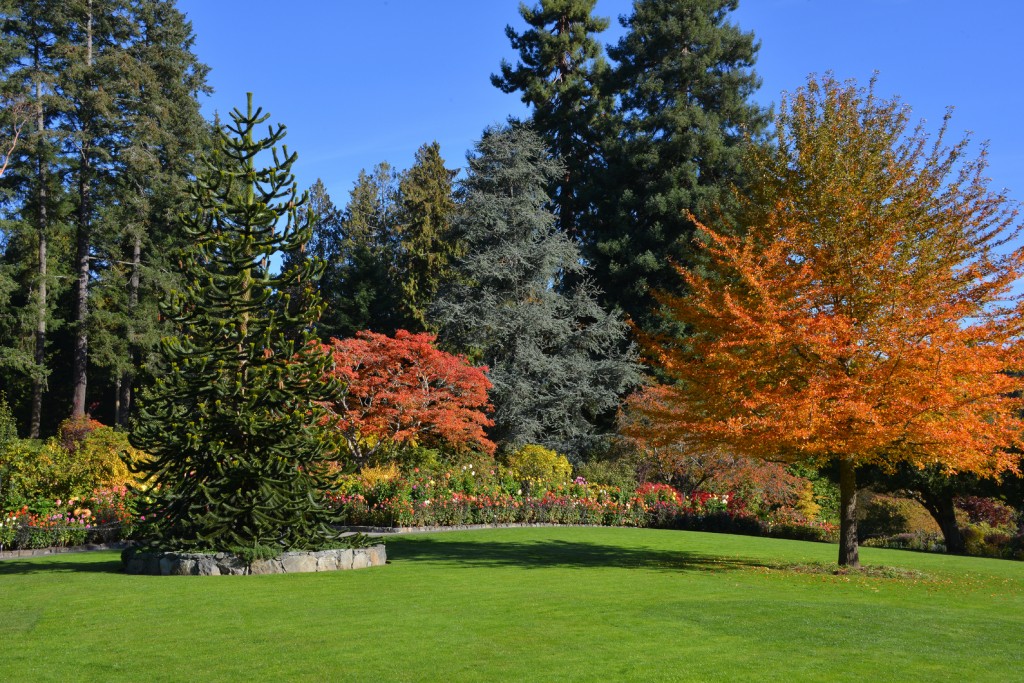 Left (behind Dahlias): Parrotia persica (Persian ironwood)  // Right: Nyssa sylvatica (Tupelo)
Highlights this week include Nyssa sylvatica (Tupelo), the vivid beauty located on the Concert Lawn in brilliant orange. Nearby, Parrotia persica (Persian ironwood) is an autumn wonder of golden shades and warm hues, also located in the Concert Lawn area behind the Dahlias, which, by the way are still looking good.
Almost beyond description, the Japanese maples dominate the show of fall colours. These beauties are unrivaled and considered one of the fundamentals of The Gardens. An impressive collection spanning over 100 years include some very well-known varieties and plenty of mystery. A very challenging endeavor to catalogue the collection has been attempted. Many have been positively identified whereas many are simply unknown seedling variations of Acer palmatum and japonicum.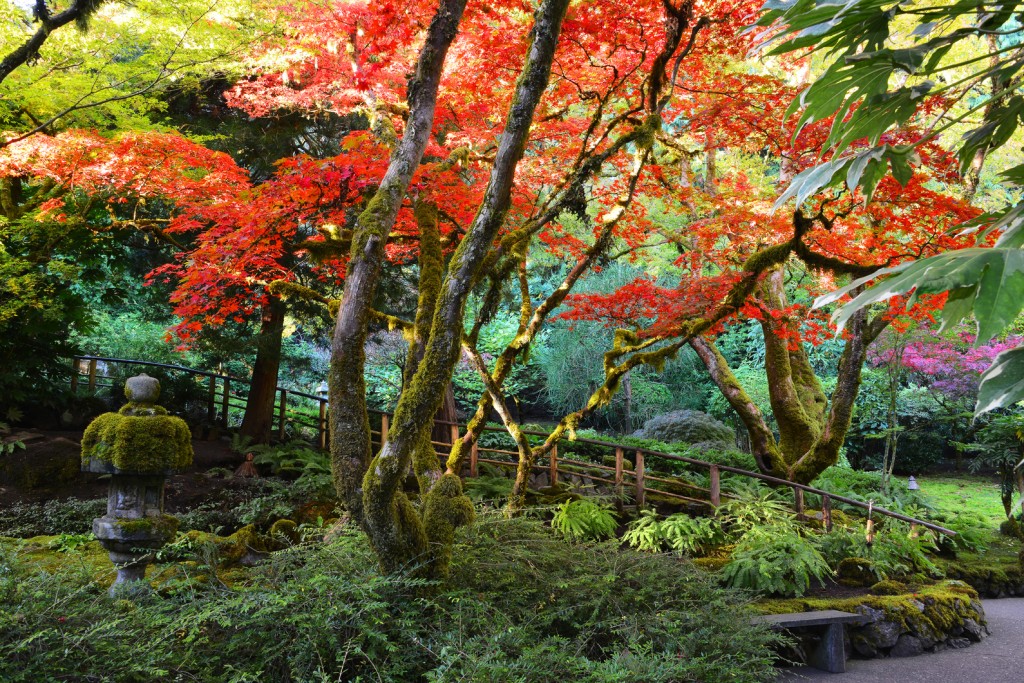 A colourful contrast in the Japanese Garden
Regardless of exact botany, these trees are valuable garden jewels. With many located in the Sunken Garden and Japanese Garden in a range of autumn beauty, they are reason alone to visit The Gardens this week.
Plants that are currently blooming
Abutilon (Flowering maple)
Acer (Japanese maple)
Achillea (Yarrow)
Aconitum(Monkshood)
Anemone x hybrida (Japanese anemone)
Anigozanthos (Kangaroo paw)
Aralia elata (Japanese angelica tree)
Arum italicum (Lords and ladies)
Aster (Michaelmas daisy)
Bellis (English daisy)
Begonia
Callicarpa
Celosia (Cockscomb)
Chrysanthemum
Clerodendrum bungei (Glory bower)
Clerodendrum trichotomum (Glory bower)
Colchium (Autumn crocus)
Cosmos atrosanguineus (Chocolate cosmos)
Cyclamen coum
Dahlia
Fuchsia
Gazania
Gordlinia x grandiflora (Mountain Gordlinia)
Helenium (Sneezeweed)
Helianthus (Perennial sunflower)
Heliopsis (Ox eye)
Heptacodium miconioides (Seven –son flower)
Hydrangea
Iochroma
Nyssa sylvatica (Tupelo)
Rosa (Rose)
Rudbeckia (Gloriosa daisy)
Sedum (Stonecrop)
Solanum
Solidago (Goldenrod)
Tibouchina (Glory bush)
Tricyrtis (Toad lily)