What's in Bloom Now? Garden Updates October 27 – November 2
By Thea Hegland
It is amazing how quickly and suddenly things can change; we prepare for it, expect it and wait for it. Yet when it actually happens, it can be shocking.
This past week two major changes have occurred starting with the weather. Our never-ending summer ended abruptly as did the summer garden. Truly speaking, we have been beyond fortunate to enjoy such beautiful weather for so late into October. Without doubt, the summer blossoms lingered a little longer and the fall colours on the deciduous trees and shrubs have delivered one of the most incredible displays of autumn foliage we have seen.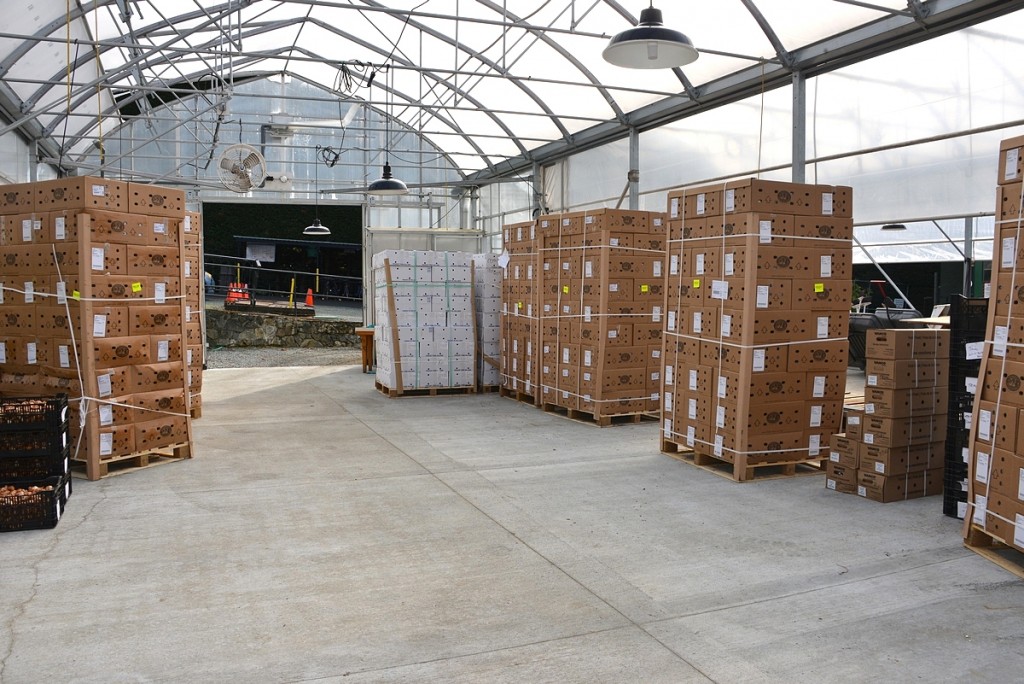 Long-awaited shipment of spring bulbs from Holland
Bravely, the gardeners welcomed the rain and the rest of our long-awaited shipment of spring bulbs from Holland. Summer flower bed have been abolished and the next phase of the garden cycle starting rolling. More than 300,000 Tulips, Daffodils, Hyacinth and other spring treasures are now being rapidly planted in the freshly tilled beds.
Today the sun is out again and The Gardens are shining brightly with a new light. The surrounding forest has been replenished with the much-needed rain, the tired flowers have been laid to rest for the season leaving the phenomenal collection of trees to glow with autumn glory.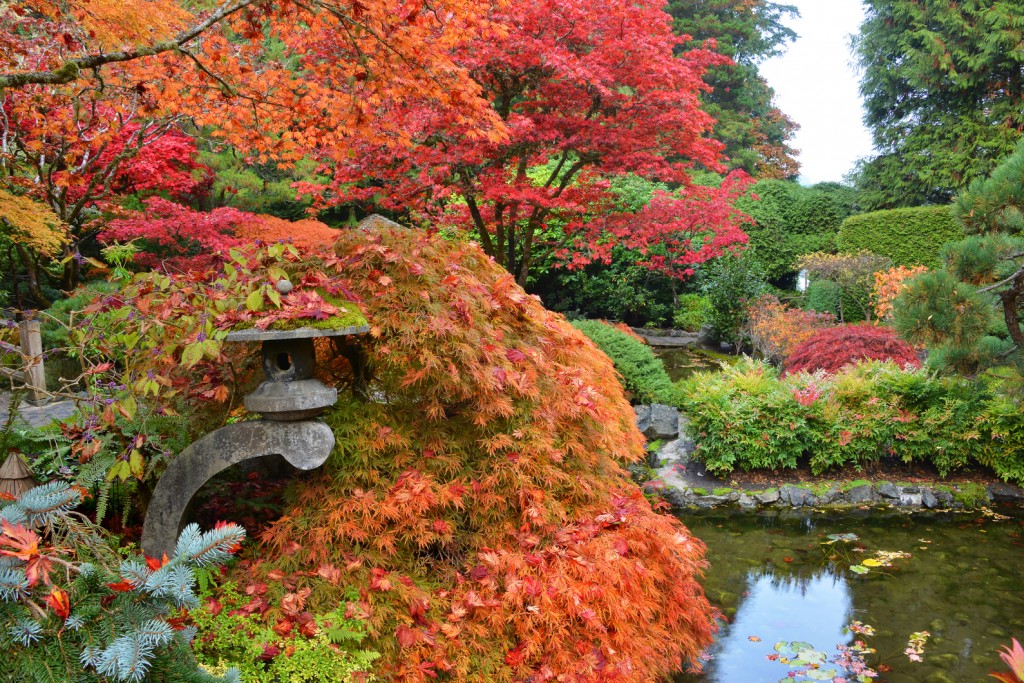 The tail-end of the brilliant fall foliage in the Japanese Garden
Plants that are currently blooming
Acer (Japanese maple)
Aconitum (Monkshood)
Aucuba japonica (Spotted laurel)
Bellis (English daisy)
Bergenia (Elephant's ears)
Callicarpa (Beautyberry)
Capsicum (Pepper)
Cercis canadensis (Forest pansy)
Chrysanthemum
Clerodendrum trichotomum (Glory bower)
Cyclamen coum
Dahlia
Euonymus europaeus (Spindle tree)
Fuchsia
Hydrangea
Ilex
Liquidamar (Sweetgum)
Nerine
Nyssa sylvatica (Tupelo)
Ophiopogon planiscapus (Mondo grass)
Parthenocissus tricuspidata (Boston ivy)
Polyanthus (Primula)
Skimmia japonica
Tricyrtis (Toad lily)
Viburnum tinus
Viola