Winter Garden Insights
By Rick Los, Director of Horticulture
What you can expect to experience January – March  2019
Outside In the Garden
I was pondering how the Christmas season impacts the actual garden experience and considered how the decorated gardens could be compared to a most exquisitely wrapped gift, perfectly placed beneath a beautifully decorated Christmas tree. The scene is captivating – the gift wrapping, ribbon and bows capture your attention and there is a sense of excitement and anticipation that within that package is something incredibly special. The excitement builds as the bows and ribbons are removed and finally you peel away the shiny packaging to reveal something of extraordinary beauty – a treasure of immeasurable value. As with any gift, you realize that even though the wrapping may be exquisite, the true treasure lies within. The treasure of the garden that lay hidden beneath the wrapping of lights and decorations of the Christmas season once again becomes the focus as we begin the new year.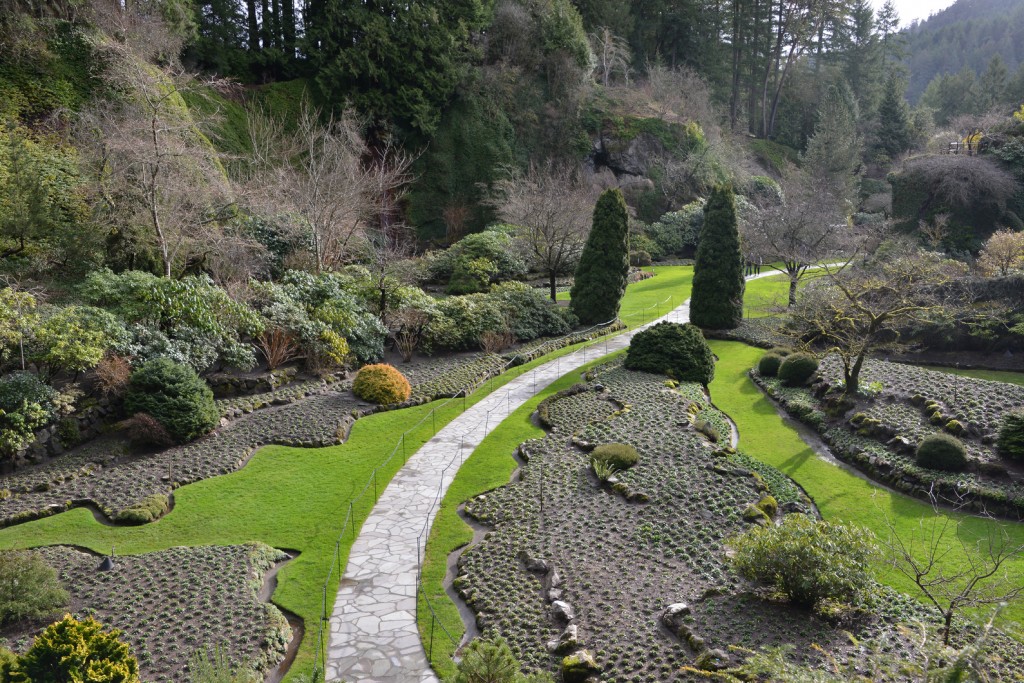 A calm winter's day in the Sunken Garden
We like to think that the gardens are like a precious gift for all to enjoy – some of our visitors even say that the gardens are a rare treasure. I often think about what that means as the world is changing at such a fast pace and we sometimes have a hard time maintaining our bearings in it. As much as the world around us changes we strive to stay the same. Or let me try to clarify that – we do everything we can to maintain our unique identity and provide our visitors with a timeless experience where subtle changes (improvements) to the garden are only made if they in no way compromise our heritage.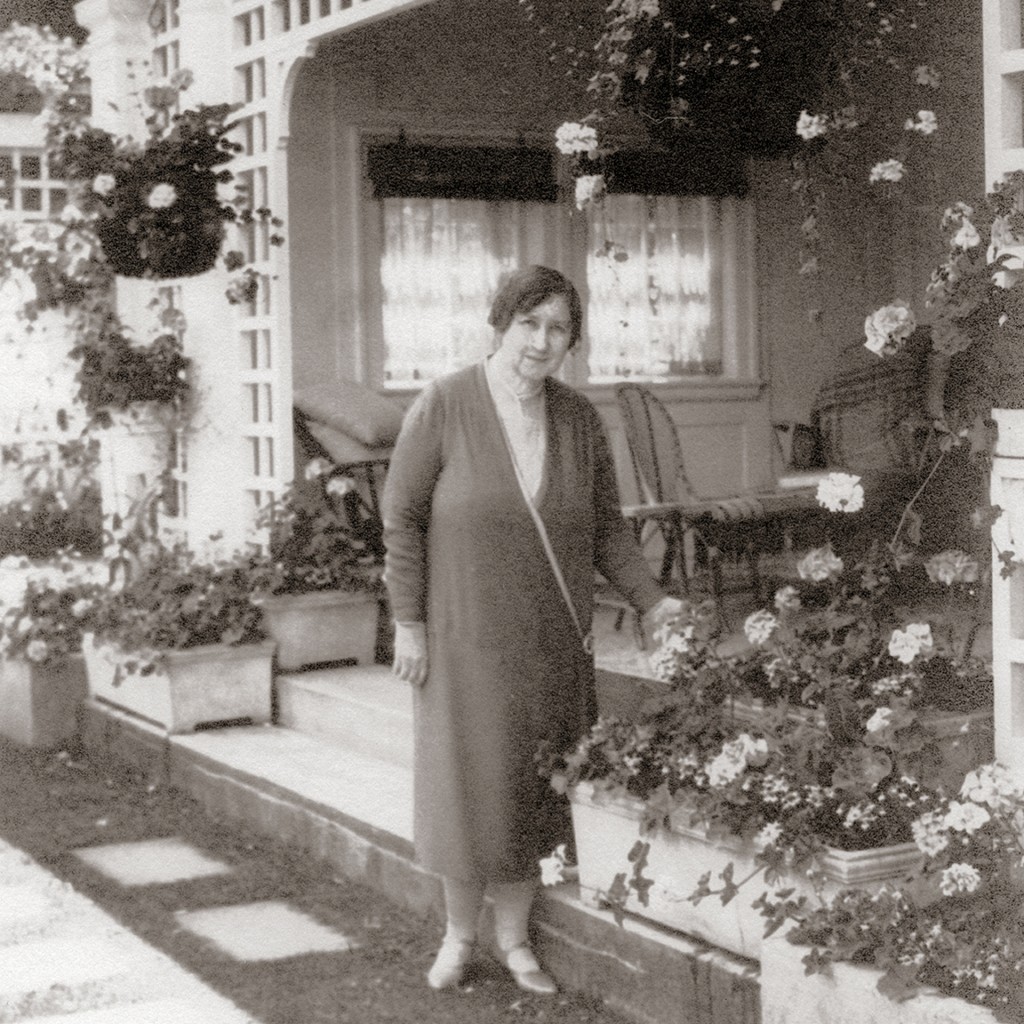 Jennie Butchart, circa 1920
Our reputation is just as vitally important to us as our history – the two are really intertwined as visitors come with the same anticipation and expectations that they did when Jennie Butchart first opened her garden to the world.
Contrary to what many people might think, this is an absolutely lovely time of the year to come out and experience the garden. Our garden takes on a distinctive and enchanting beauty during the winter months that all of our visitors need to experience at least once in their lifetime. A visit now really puts the rest of the year in perspective – in some ways it could be compared to looking at an artist's canvas during the initial layering of the composition. Each week the garden provides another layer, adding colour and depth – slowly and subtly revealing a beauty that requires more than just a casual observation to fully appreciate.
The garden really seems to wake up from the winter doldrums with the arrival of tens of thousands of Crocuses who boldly make their presence felt throughout the gardens in late February. The earliest of our Cherry trees begin to bloom in early March and their beauty is accentuated with pockets and/or waves of Eranthis, Scilla, reticulata Iris, Anemone blanda, Chionodoxa and Narcissus as well as many other early blooming bulbs, perennials and shrubs. Of course, this all should (emphasis on should!) bloom in harmony with our carefully planned display borders of biennials and bulbs which are perhaps the most well-known and well-loved features of our late winter garden.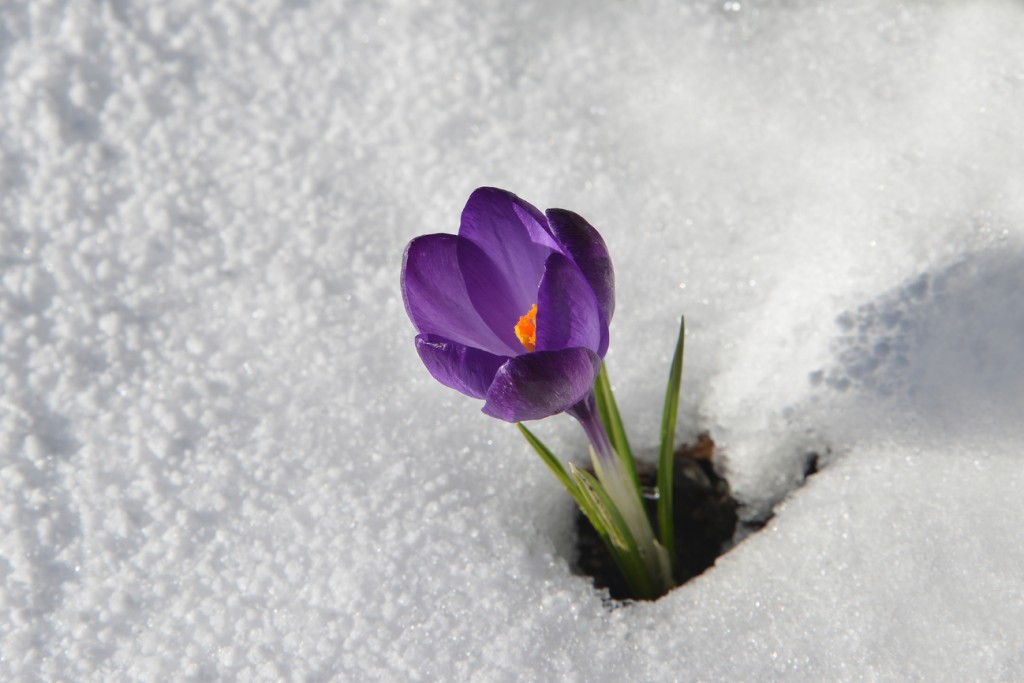 A Crocus, rising up from under a previous year's snowfall
Much like our own lives, changes occur in the garden on a daily basis. However, the changes in the garden always seem to be reassuring changes – changes that keep us connected to the natural world and in our case, connected to our glorious past as well. So now that the decorations of the season are removed for another year, the unwrapped gift of this precious garden is once again available for you to enjoy – naturally!
Inside the Spring Prelude Garden
How do you make something that's already amazing even more amazing? Well, thankfully it's not only up to me to try to come up with new ideas for this fabulous indoor garden as you wouldn't be getting freshly inspired each year that we recreate this feature. I realize that I have said this before, but I don't think that I say it often enough, is that the key to our success and our ability to take something amazing and make it even more amazing is simply because we are blessed with exceptional staff – period. To be able to design, plan and create an improved world class display year after year truly requires incredibly talented and dedicated staff.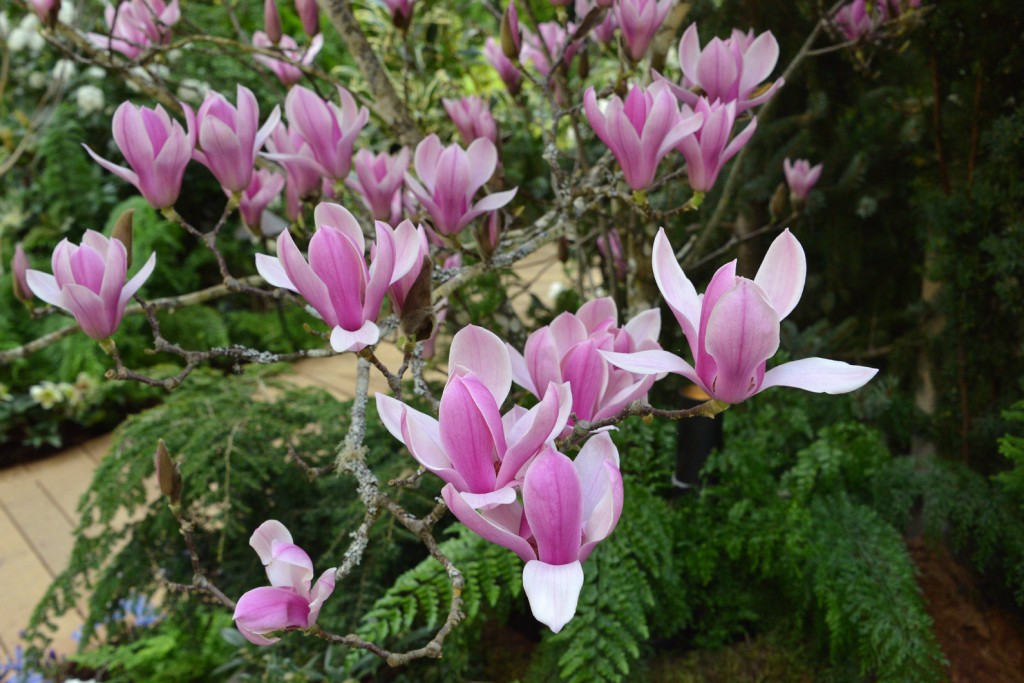 Magnolias have been known to make an appearance in the past
From the moment you walk in the door you will notice that something is different, as for the first time since Spring Prelude began, we have changed the way that you enter the garden. As you walk in from outside you enter a small pocket garden which has been created for you to pause and help get you focused before you meander further into the main garden areas. Continuing on your journey you will notice subtle changes throughout the display as new features have been added and some of the older features have been refurbished.
One of the highlights for me and something that may look oddly familiar to our visitors is an original portion of the fountain found in the Italian Garden. This piece of artwork has literally been brought back from the rubble heap to become a focal point in one of the ponds. It was one of those moments when someone says "Do you think we could do anything with that?" to saying "Wow, I can't believe what you did with that!" Thankfully, our staff are exceptionally good at doing anything with 'that' and continually pushing the bar higher. I have used the terms 'evolving artistry' and 'continuous refinement' in the past and I have to admit that this really describes what our staff seem to do best.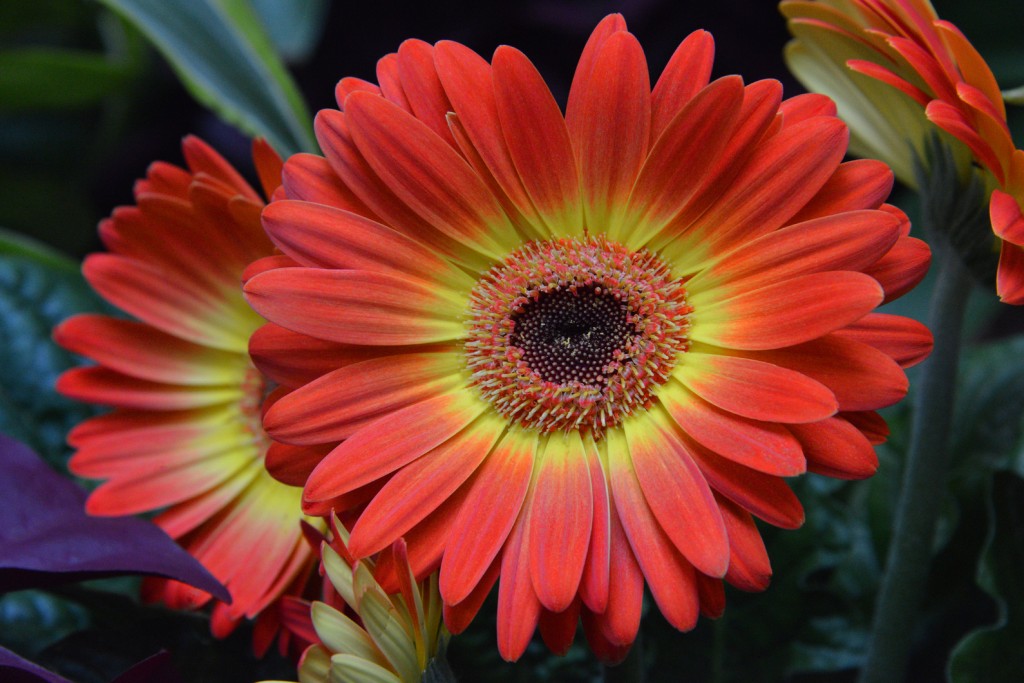 A beautiful spring bloom, one of many likely to be seen ahead of schedule in the Spring Prelude garden.
For anyone who hasn't ever had the opportunity to come and see this incredible indoor garden display, I guarantee that you will be impressed. The Spring Prelude display is housed in our largest restaurant facility and is installed during a one-week period just after our Christmas season ends January 6. The transformation from restaurant to garden is an incredible achievement in and of itself, but the beauty that you find yourself immersed in makes it hard to believe that the facility was ever a restaurant to begin with. This display will provide you with an early dose of spring to help refresh your spirit and reinvigorate you during the winter months.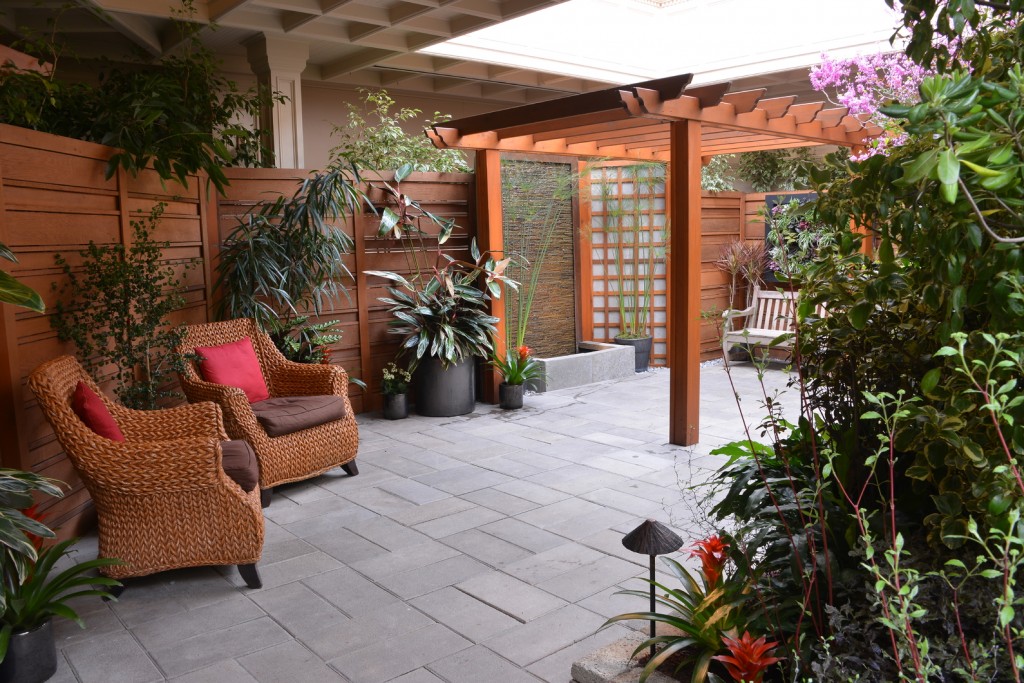 Tranquility in the Spring Prelude from a previous year. Stay tuned for photos of this year's design layout.
The Spring Prelude display provides you with all of the colours of spring (and much more!) brought into bloom all at once – well before the garden outside begins to reveal its spring beauty. Indoors, the Cherry trees burst into bloom and the Tulips create flowing carpets of colour while outside the buds of the Cherry trees are merely swelling up and the Tulips are just slowly emerging out of the ground. The contrast is striking, especially in January and as we move into March, the outdoor garden begins to compete with the indoor display more and more.
For over 20 years this amazing creation has become a focal point of our winter garden experience and we sincerely hope that you have a chance to experience this incredible beauty for yourself.