An Update on The Butchart Gardens Christmas Display
By Bruce Watson, Director of Arts & Entertainment
From Christmas trees, lights and parties to visits from family and friends, festive baking, and thoughtful presents, the holiday season is filled with traditions that bring us together. Coming to The Butchart Gardens each Christmas may be one of these traditions. I often hear from visitors that they love this familiar tradition, but they also come to see what is new each year.
So what is under the tree for you this year?
Our Christmas display sees some refurbishment every year. Prop pieces such as the Maids and the Ladies step out in the summer to dust off their outfits, while the Birds and Hens preen in the sunshine. As soon as the Christmas display closes each year, all the pieces are inspected for repair and replacement, lists are made, lights ordered, and mechanical elements maintained. New display elements are conceived, and time booked for assembly and construction. This off-season work is important, as all elements need to be completed by September so that the Christmas installation can begin on October 1st. Each autumn we are busy for two months installing lights, displays, and décor all over The Gardens to transform it into a Christmas wonderland.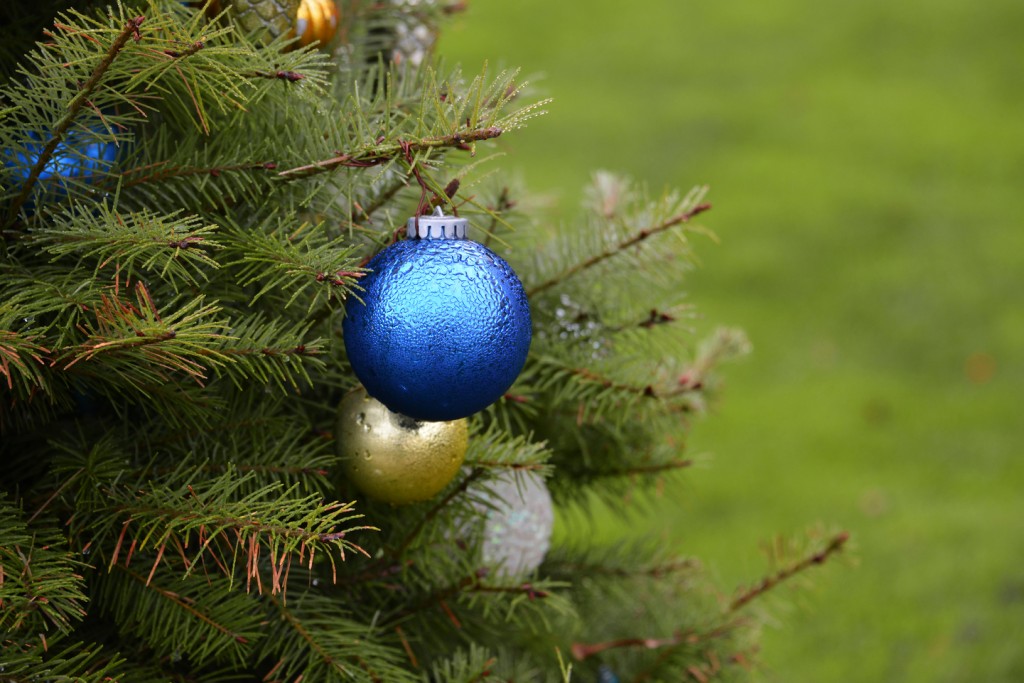 Autumn dew glistens on elements of the Christmas display
How does the Christmas display come together?
It's a group effort of a small core of Arts & Entertainment staff working during the off season that swells to dozens of people working full time on direct installation duties by November. Our efforts are supported by other departments, who assist in providing staff, equipment, expertise, or maintenance tasks. The 12 Days of Christmas anchor our display, and we install multitudes of lights to adorn the Gardens, some in familiar patterns and colours, while some see new arrangements each year. The Sunken Garden flowerbeds get a new light "planting" each year, so you'll need to have a look from the viewpoint to see how the display has sprouted this year. On your walk you will pass by many natural Christmas trees, brought in especially for the season, along with a very tall Christmas tree that is hoisted in place by a crane and decorated via a bucket truck. We have numerous Christmas trees, kilometres of cedar garland, wreaths, and countless ornaments.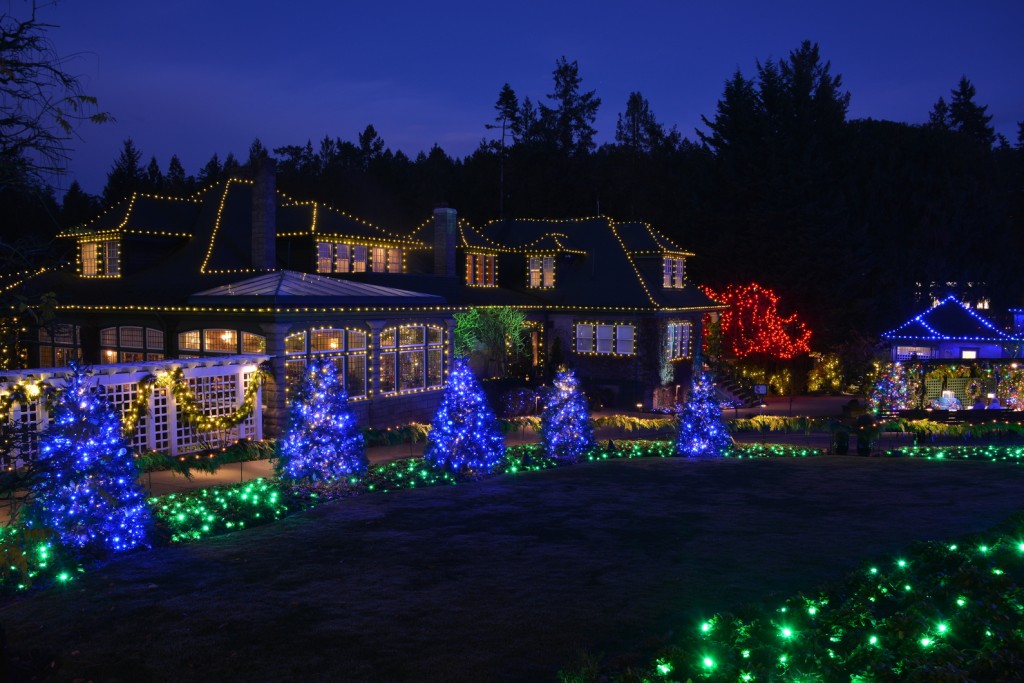 A few of the 16 natural Christmas trees found throughout the display. These are decorated in October behind the scenes
More information about the Magic of Christmas display.
Although I hope you appreciate the scale of the display and the amount of effort involved, it is more important to me that this season still appears magical to you. I hope you are captivated by the luminous points of light in the forest leading to the Sunken Garden, or that you will sing to the lights that dance along the tree branches to the sound of your voice. This year the colour changing orbs have relocated to the Redwood Forest. Search them out and see what they are up to out there. A new occupant will hold court in the centre of the Rose Garden this year, and be sure to stop by the Concert Lawn to see the tall and new creation, adorned with over 15,000 lights, every single one of them put in place by hand.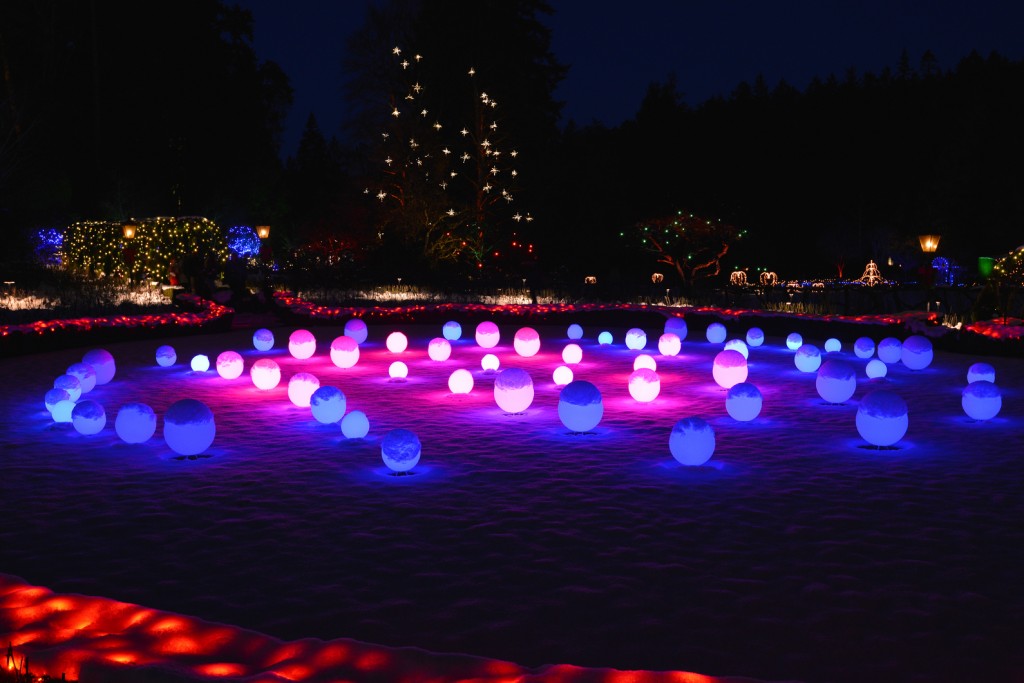 These orbs, shown in the Rose Garden, have moved locations with a new display taking centre stage in their place
When the curtain opens on this year's display, The Gardens team will be here to welcome you – to offer directions, clear the snow, maintain the lights, provide ice skates, prepare dinner, suggest last minute stocking stuffers, make refreshments, and most of all, we will do our best to create a favourite holiday tradition for you. After all, it is the most wonderful time of the year!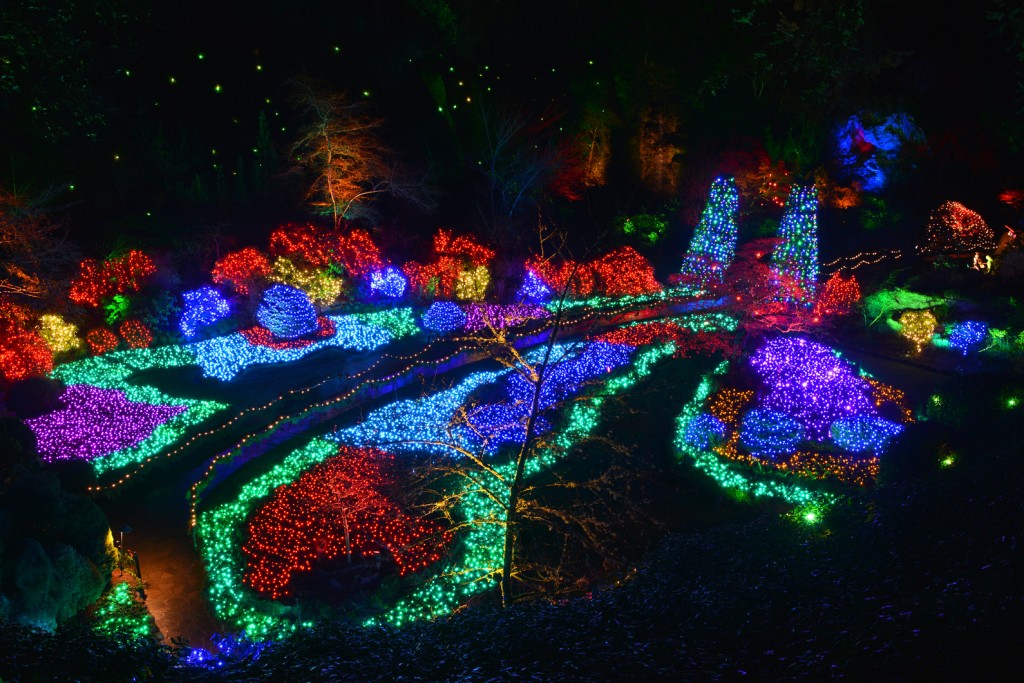 Check to see what new Christmas lights have sprouted this year in the Sunken Garden.
All Photos: 2018 Christmas display